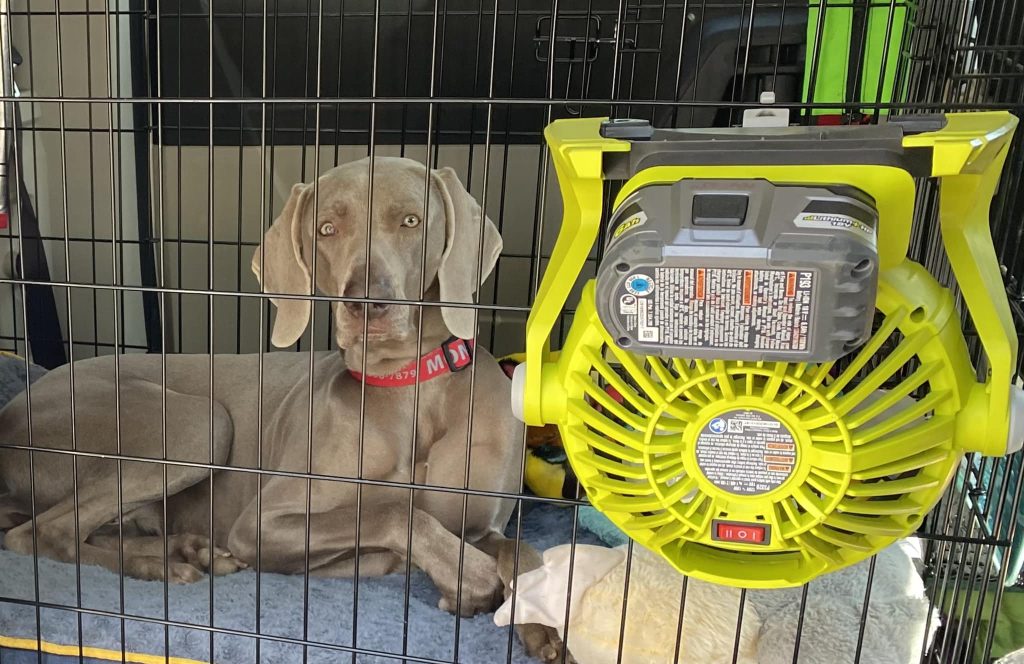 Beat the Heat
By Jessica Freni
Ten items to make showing this summer a cool experience!
PC: Tanya Rowan, Jennie Chen & Jessica Freni
highly recommended Ryobi Cordless
https://www.homedepot.com/p/RYOBI-ONE-18V-Lithium-Ion-4-0-Ah-Compact-Battery-2-Pack-and-Charger-Kit-with-FREE-Cordless-ONE-Hybrid-Fan-PSK006-PCL811B/320253702?source=shoppingads&locale=en-US&&mtc=SHOPPING-BF-CDP-GGL-D25T-025_009_PORT_POWER-NA-Multi-NA-SMART-NA-NA-NA-NA-NBR-NA-NA-NA-PortPower&cm_mmc=SHOPPING-BF-CDP-GGL-D25T-025_009_PORT_POWER-NA-Multi-NA-SMART-NA-NA-NA-NA-NBR-NA-NA-NA-PortPower-71700000106625794-58700008274559054-92700076261262918&gclid=Cj0KCQjw4NujBhC5ARIsAF4Iv6dD5ibkXOT470AMO7lwdPV46g62cwHupWTdiowvM5AGtJXzxGbGni4aAv71EALw_wcB&gclsrc=aw.ds
These clever biothane hooks make it easy to modify fans to attach to crates or Kennels https://www.etsy.com/listing/1286355559/basic-biothane-fan-hanger-small-to-x?ref=share_v4_lx
The Artic Cove Misting Fan works at home attached to the hose or on the road on a 5 gallon bucket! Added bonus it is Cordless and compatible with the same Ryobi batteries! Arctic Cove MBF0181 18V Lithium Ion Powered Cooling Bucket Top Variable Speed Fan and Water Mister (18V Battery and Charger Included, 5 Gallon Bucket Not Included) https://a.co/d/57k3oab
Popular among brachycephalic dogs these coats keep dogs cool without getting them wet
Working Dog Cool Coatshttps://www.facebook.com/workingdogcoolcoats?mibextid=ZbWKwL
Terrapin Craftworks https://www.facebook.com/profile.php?id=100057354164160&mibextid=ZbWKwL
These are easily clipped to pens and over crates to reflect sun and fold up easy to pack
Aluminet Shade Cloth Fabric with Grommets and Ball Bungee 6.5 ft x 6 ft https://a.co/d/72ezc4w
Great feature real time alerts
https://mywaggle.com/?tw_source=google&tw_adid=607388473821&tw_campaign=17308967756&gad=1&gclid=Cj0KCQjw4NujBhC5ARIsAF4Iv6eeHGj5Pvm6rLK-4xGbiU7XC-f4x1RTgKV-71cXuixQFOA9Z0dXdpcaAonEEALw_wcB
Added bonus this is a nice conditioner and will reduce sun fading in black/ dark coats
Chris Christensen Ice on Ice Detangler and Finishing Dog Spray, Groom Like a Professional, Ready to Use, Helps Brush/Comb Glide Through Coat, Conditions, No Residue, All Coat Types, Made in USA, 16 oz https://a.co/d/4mHoxLd
Handy to toss in the tack box for dog or handler!
Sukeen [4 Pack Cooling Towel (40″x12″), Ice Towel, Soft Breathable Chilly Towel, Microfiber Towel https://a.co/d/12CX9id
The Yeti Rambler keeps water cold up to 24hrs and is built to take a beating it can hold up to 46oz.
YETI Rambler 46 oz Bottle, Vacuum Insulated, Stainless Steel with Chug Cap https://a.co/d/aZYvxjZ
Perfect for everything from ringside tote to small dogs these bags are easy to clean, durable and available in a variety of colors!