A Cinderella Story
One dog's true story of rising from obscurity and uncertainty all the way to the spotlight of the Royal Canin AKC National Championship when a village rallied to his rescue.
As retold by Linda Blaser,Upland Fields. Edited by Jessica Freni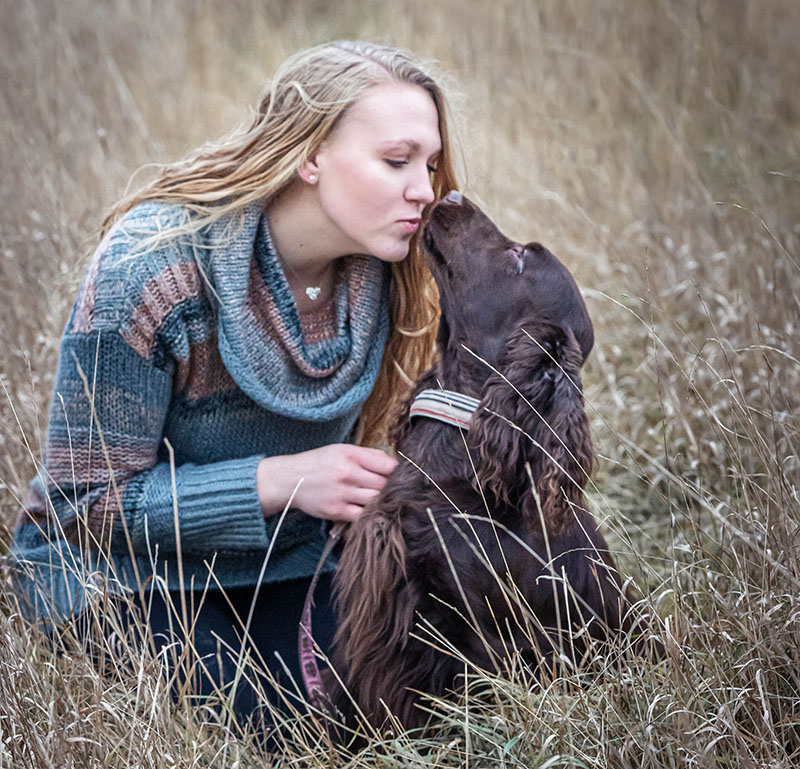 March 2019, an urgent message came in about a field spaniel on Craigslist; as a long-time Field Spaniel breeder, I knew it was an abnormal occurrence for this rare and valuable breed. Typically, families wanting to acquire a field spaniel have to be put on a waiting list for several months or even a year or more and are carefully vetted. As a breed, we look after our own, so I immediately got online and pulled up the Craigslist listing, it definitely looked like a purebred field spaniel! I immediately contacted the seller listed in the Ad. The Craigslist seller could not recall the breeder's name or contact information, so the breeder was never contacted.
Studying his photo carefully, I thought I recognized which "line" the dog came and reached out to the associated breeder. Indeed, the breeder did place a Field Spaniel of that age with someone from that town in Texas three years prior! The very worried breeder, recently fallen on hard times, was assured not to worry "we will get the dog somehow".
With the generosity of two fellow field spaniel breeders our funds were pooled together to buy him from the owner- we help each other as breeders as well as taking care of the breed! Distance was the next hurdle, given that the three of us breeders, Peter Archer, Kay Klein and myself lived in Canada, Iowa and Wisconsin respectively, we wondered, "how do we get him?" Networking social media, I found a Welsh Corgi breeder/rescuer, Heidi Kilgore, in Indiana who was going to Texas in a few weeks. She would be willing to transport the dog to the Midwest when she returned. Transportation arranged, timing was the issue of utmost importance. We needed to get him safe before someone with nefarious intentions did. Peggy Presnall, a former Field Spaniel breeder living in Texas, was kind enough to arrange picking him up, however, it was only a temporary stay. His transportation to the Midwest still two weeks away with a gap in where he could be fostered. So, I reached out to Brooke Hailey, with whom I had placed a Field Spaniel with several years prior. Brooke, who lived an hour away from Peggy, graciously agreed to keep him until Heidi could pick him up. Brooke could not get him until her next day off from work, so Peggy rearranged her schedule so she could keep him until then. Our village was coming together and the pieces were all falling into place!
Peggy arranges the purchase and pick-up of the dog- who is covered in fleas, burrs and matts. Peggy begins working on him. The plan is we are expecting he will come to Wisconsin via Indianapolis, where he will be evaluated, rehabilitated and placed in a nice pet home. Peggy contacts me from Texas and says she thinks there may be a nice-looking dog under all that mess! She spends a few days devoted to the difficult task of cleaning him up. Eventually, Brooke and Peggy coordinate the next leg of the dog's journey. Brooke picks him up, gives him another bath and cleans him up even more. She falls in love with him, but knows he has still more work ahead of him.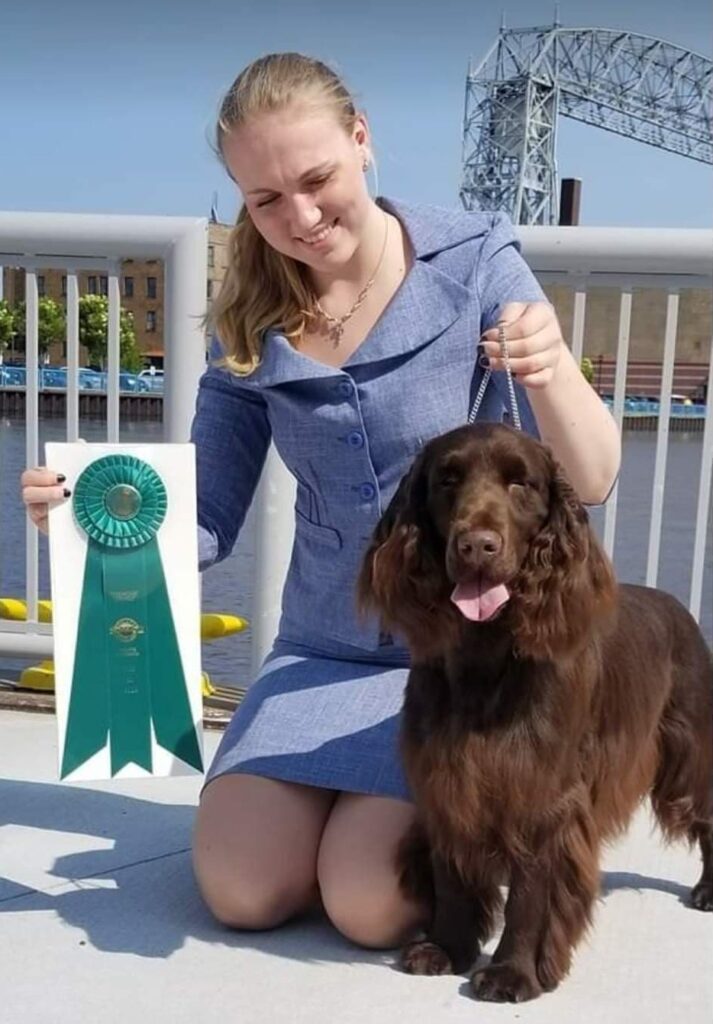 Heidi, who is now in Texas, arranges for a friend of hers to meet with Brooke for the next hand-off. Her friend keeps him for the night until Heidi can pick him up in the morning and begin the 1100 plus mile journey to the Midwest. Heidi contacts me and says, "he's a really nice dog!" This is becoming a theme. Heidi is kind enough to keep him at her home for 5 or so days until the weekend, when I can drive to Indianapolis from Wisconsin to pick him up.
We meet at a truck stop where I finally get to meet this boy. He has had a long and complicated journey, but he is really taking in stride. Since both Heidi and I are breeders, we can't resist- a grooming table is pulled out, we stack him and turn a careful eye to evaluating his structure. I think, "Holy cow, he's really nice!" Despite some vices from lack of training, he has a wonderful, sweet, outgoing temperament!
I load him into my SUV and head to Wisconsin. On the way home from Indianapolis to Juneau, WI, I decide to detour in Ottawa, WI. At a hunt test while watching some friends run their dogs, i I'm also observing the dog among the bustle of people and other dogs. Friend and fellow sporting dog breeder, Julia Schultz, takes one look and him and says, "Oh Linda, he's stunning!" Confirming my thoughts exactly. Finally arriving home, I decide to call long-time professional groomer, friend and Field Spaniel co-owner Kietra Boerson. "Um Kietra, can you help beautify a rescue dog?" Sure, she says, without much coaxing. Like Cinderella's fairygodmother she works magic and he is fabulously transformed! Excitedly, I send photos to Peter and Kay. There's a consensus, this diamond in the rough MUST be shown! I contact Junior Handler Mikala Seymour and her Mom Nadene to ask if Mikala would be interested in co-owning and showing a really nice Field Spaniel. Yes…she would! We all, (Mikala, Peter, Kay and I) agree we will rename him Riley. There is no way we are going to call him "DOG", the name his former owner gave him!
Junior handler Mikala Seymour devotes herself to his training and he's becoming a real show dog! Kietra and I are going to the Field Spaniel National Specialty in Idaho, so we decide to enter Riley. With the help of a friend in Idaho, it's arranged Annika Decker will handle Riley at the Idaho shows. At the supported entry show, the day after the National Specialty, Riley and Annika win Winners Dog for a 5 point major! Since Annika has to show Veteran "Petey" in Best of Breed competition, Kietra takes Riley back in the ring and together they take Best of Winners! Mikala's training, Kietra's grooming, with Annika and Kietra's handling, Riley, the Craigslist rescue, goes all the way to WD/BOW with a 5 point major at the FSSA supported entry the day after the National! Wow, we are all over-the-moon for our miracle boy Riley's success! With Mikala's continued training, and Mikala and Dani Rose's handling over the next couple of months, Riley finished his AKC Championship very quickly in 2019. From an ungroomed unknown going only by "Dog", Riley had become CH Bruce's Living The Life @ Upland (Owned by Mikala Seymour, Linda Blaser, Peter Archer & Kay Klein).
Fast forward to 2020, Junior Handler Mikala continues to work diligently with Riley, he had some difficult habits to overcome given his rocky start and three year delay in training,but Mikala's hard work and dedication paid off in a big way. Mikala and Riley climb all the way to #5 in the AKC National Owner Handled Series securing them an invitation to the Royal Canin AKC National Championship!
With the help of friends, Mikala has arrived in Orlando, Florida, with Riley where he will be shown in the AKC National Owner Handler Competition. Bravo Mikala! You have transformed the once wild and crazy, Craigslist rescue into the unlikely show dog that he is today. It took a village to get him there, but you turned him into the show dog worthy of the ring in National Competition that he is today. Good Luck in Florida Mikala and Riley! Our "village" is incredibly proud of you both!
*First Candid above in the field taken by Emily Wysocki