A Dream Is a Wish Your Heart Makes
By Jessica Freni
Photos Use with Permission
A dream two years in the making came true for one little girl at the Cardigan National! A truly heart-warming team effort with the Make-a- Wish foundation brought "Snowflake" into the arms of Catherine McNabb,6. Some of those involved with this special Make-a-Wish day shared their experience: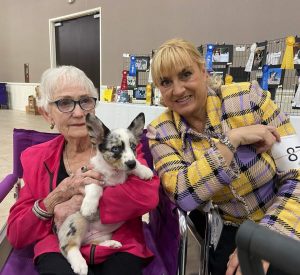 Breeder Cass Frank shares,
"Today at Cardigan Nationals we got to do something very cool.  Two weeks ago Make a Wish reached out with a special request for a blue eyed blue Merle Cardigan puppy for a Make a Wish child, a young girl with leukemia.  We had the perfect puppy for her and today we made her wish come true!  It was a wonderful experience.  And so many people from the Cardi world stepped up with donations and support.  Amazing to see them together for the first time! "
From Catherine's mom,
"Today was a special day for Catherine. Her wish through Make-A-Wish Ohio, Kentucky and Indiana was granted! It was a huge surprise and she had no idea. She didn't even remember about Make A Wish since it was almost 2 years since we had the wish meeting.
The story was that since Rob McNabb had the day off today, I wanted to find something fun for us to do. And since she loves corgis, we decided on the Corgi Club of America dog show to watch them compete and play with corgis. So this morning we drove out to Wilmington to the dog show and she had a blast meeting and playing with SO many corgis.
Little did she know, Make A Wish and the Corgi Club of America members put together a huge reveal and so many special surprises in addition to this beautiful dog.
It was such a special day and it was amazing to see her reaction and how happy and shocked she was when they announced that it is her very own puppy. They are already bonding so well and Catherine is in absolute love with this puppy.
Thank you MAW and your amazing wish granter Morgan that helped put all of this together in less than a week. It was absolutely amazing and I am overwhelmed with gratitude."
A big congratulations to Catherine not only on her new addition, "Snowflake", but having been diagnosed with ALL at age 4 she is heading towards finishing treatment on July 23rd!
https://www.facebook.com/LikeAHeart/