A Junior and Her Jindo
Jessica Freni with Hannah Yi
● NAME: Hannah Yi
● AGE: 17 years old
● LOCATION: Atlanta, GA
● HOW LONG HAVE YOU BEEN SHOWING?
I became interested in junior handling in December 2020, attended my first dog show as an observer in April 2021, and showed my first dog in July 2021. I realize that I stumbled upon this wonderful sport much later than many junior handlers, and I wanted to the time remaining for me as a "junior" meaningful by enjoying as much of this sport possible.
I started showing my imported Jindo puppy, Yongmaeng of Noryeong Sanmaek (aka "Yong") in September 2022. Prior to that, I had been showing Dachshunds, as well as a few other breeds.
● BREED(S) CURRENTLY SHOWING:
I started my new Jindo puppy's show career back in September (2022). I am grateful for the incredible generosity of his breeder, Mr. Seong-hyeon Kim (Kennel: Noryeong Sanmaek in South Korea), for entrusting me with a male show prospect.
The Korea Jindo Dog (진돗개) is the 53rd national treasure of South Korea. This spitz breed is a hunting dog (primary game includes water deer and boar), and these dogs are renowned for their unwavering loyalty and devotion to their owners.
I am very happy and proud of the accomplishments we have made so far. He is 9 months old, and I have owned him for just 5 months now, and I hope we can be a great team to represent our breed and country.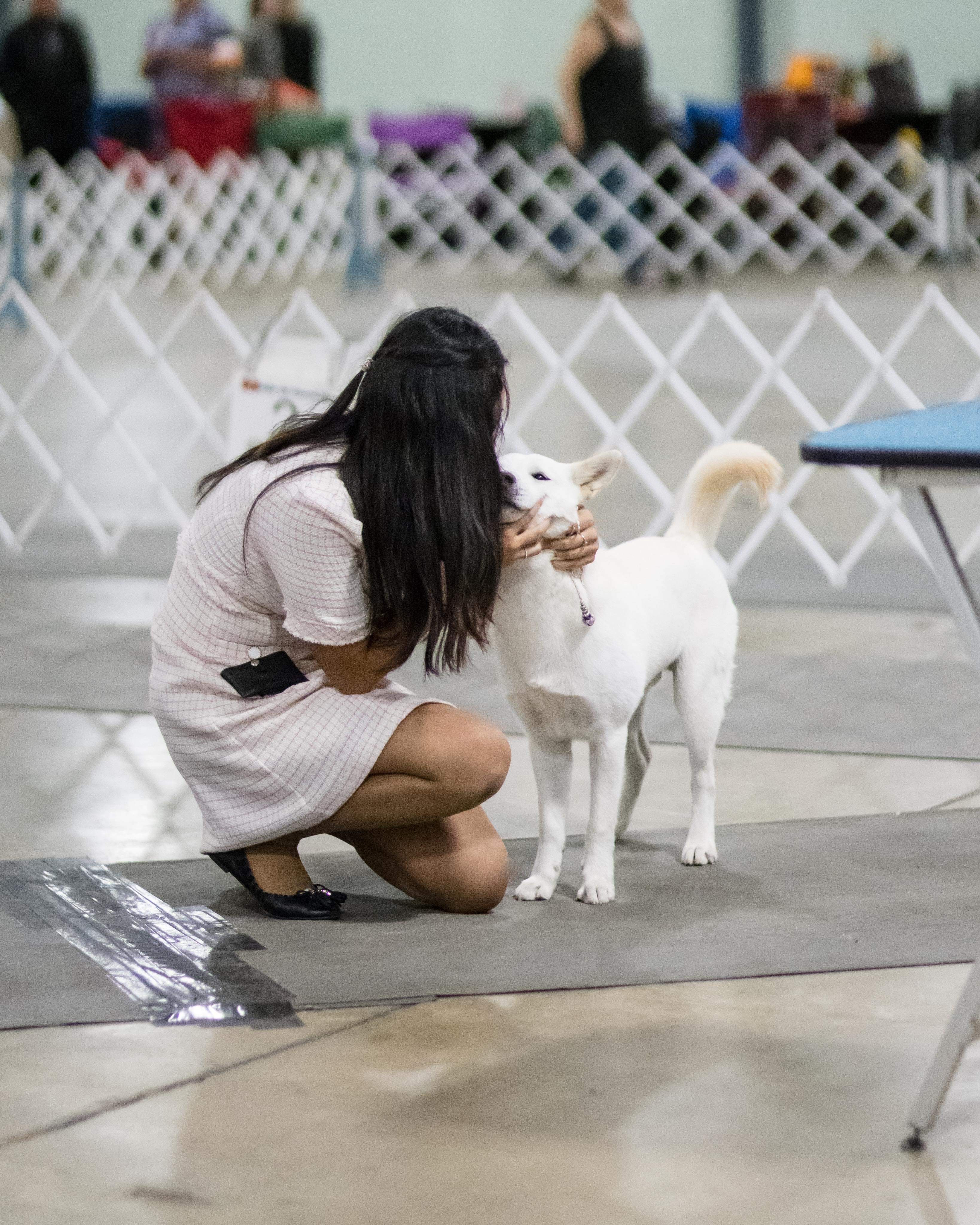 ● WHY DID YOU CHOOSE THIS BREED:
The Jindos' independence, bravery, dignity, and loyalty were all traits I desired in a dog.
As a Korean-American, owning a Jindo has allowed me to better re-connect with my culture. Growing up, I went through a period of disconnect with my heritage; I wanted to fit in with my non-Korean/non-Asian American peers who seemed so different from me. However, I have now realized that my Korean heritage is an important of who I am. Therefore, not only are Jindos everything I desire in a dog, but my involvement with this breed has allowed me to reunite with my heritage.
After learning how small the community was in North America and that the breed was in the process of gaining full AKC recognition, I had a strong desire to help the efforts of pioneering this breed.
● WHAT IS AN IDEAL HOME FOR THIS BREED?
An ideal home for a Jindo is one that can appreciate the underlying traits related to their hunting and guarding background. They are not a breed that will jump into a ditch simply because you asked them to. Though they do aim to please their owners, these dogs are independent thinkers and will not hesitate to question what you are asking them to do and why. These dogs have a fierce spirit under a cool and observant exterior. Again, this is not to confuse a lack of blinded willing obedience for a lack of biddability. My own Jindo, Yongmaeng, is a very enthusiastic fellow who is very eager to work with me and finds joy in doing so, as he can sense it makes me happy.
With other dogs, Jindos tend to be dog neutral to selective. Same-sex aggression (SSA) is generally accepted as a common trait for this breed, so gender should be taken into mind when considering to add a Jindo into a household.
● WHAT IS THE GREATEST CHALLENGE(S) OF EXHIBITING THIS BREED?
The greatest challenge of this breed in general would be the hands-on exam by a judge. Jindos are an aloof breed with a strong dislike of physical handling and restraint by strangers. As such, the hands-on exam by a judge in the show ring is often viewed as rude and unacceptable to many Jindos to do the forward nature of a stranger who was not properly introduced. Early socialization is very important to expose dogs to being handled by a variety of people in public settings, though this does not guarantee a Jindo will continue to accept a stranger's handling as they mature.
Another challenge I would say, is the judge's individual knowledge and understanding of the breed. As a (currently) landrace breed, there is a wider variety in acceptable type/appearances of Jindos as opposed to more strictly standardized breeds. My hope is that, in the future, there will be more resources available to judges with information regarding the ideal types/traits and conformation of this breed. Many things that are highly desirable in this breed are not aligned with what judges look for in other breeds.
● WHAT WAS YOUR EXPERIENCE LIKE IMPORTING FROM THE COUNTRY OF ORIGIN? WHY DID YOU DO THIS?
It was quite difficult in the beginning, because it takes a few months for a dog to adjust living in a new country. My puppy, Yongmaeng (aka "Yong") was 4 months old when we imported from South Korea. Some dogs adjust poorly, but, thankfully, Yongmaeng was (still is!) a cheerful boy who adapted quickly to my family (his new family) and lifestyle.
The reason why I decided to import was because I was determined to start with a well-bred dog, and, in a breed where a very small percentage of the population is outside of Korea, it made more sense to import. Additionally, I wanted a puppy from a line that I knew had a history of remarkable (and successful) show dogs with strong breed type and temperament. His breeder was very supportive and made this stressful process (mostly, the paperwork) much easier.
● WHAT IS SOMETHING YOU WISH PEOPLE KNEW ABOUT THIS BREED? WHAT IS A COMMON MISCONCEPTION?
Due to the prevalence of rescue dogs from Korea and many Jindos being raised without proper socialization and training, Jindos are regarded as being fearful, aggressive, and unstable. This could not be further from the truth as a Jindo should be confident and discerning.
Additionally, Jindos are not meat dogs, as incorrectly believed by many people. The "dog meat trade" in Korea is rarely supported even in Korea, and most of the rescue dogs coming from Korea are strays or abandoned pets that may be of Jindo or general "Asian spitz" origin.
● WHAT ARE YOUR GOALS WITH YOUR DOG?
Currently, my main goal is to earn Yong's AKC CM, which is essentially a championship for breeds currently in Foundation Stock Service (AKC-FSS). I would also love to hunt small game with him once he is finished.
If he matures to our expectations and passes his health tests, he will hopefully become the foundation dog in my breeding program (a future goal!). But, as he is still a puppy, discussion of that is very far in the future. For now, I am enjoying my dream dog as we are spread awareness about Jindos and helping build connections between the North American dog fancy with the Korean one.
● PLEASE PROVIDE AN ADDITIONAL INFORMATION YOU WOULD LIKE US TO KNOW/SHARE
I am extremely thankful to the people who have supported and mentored me.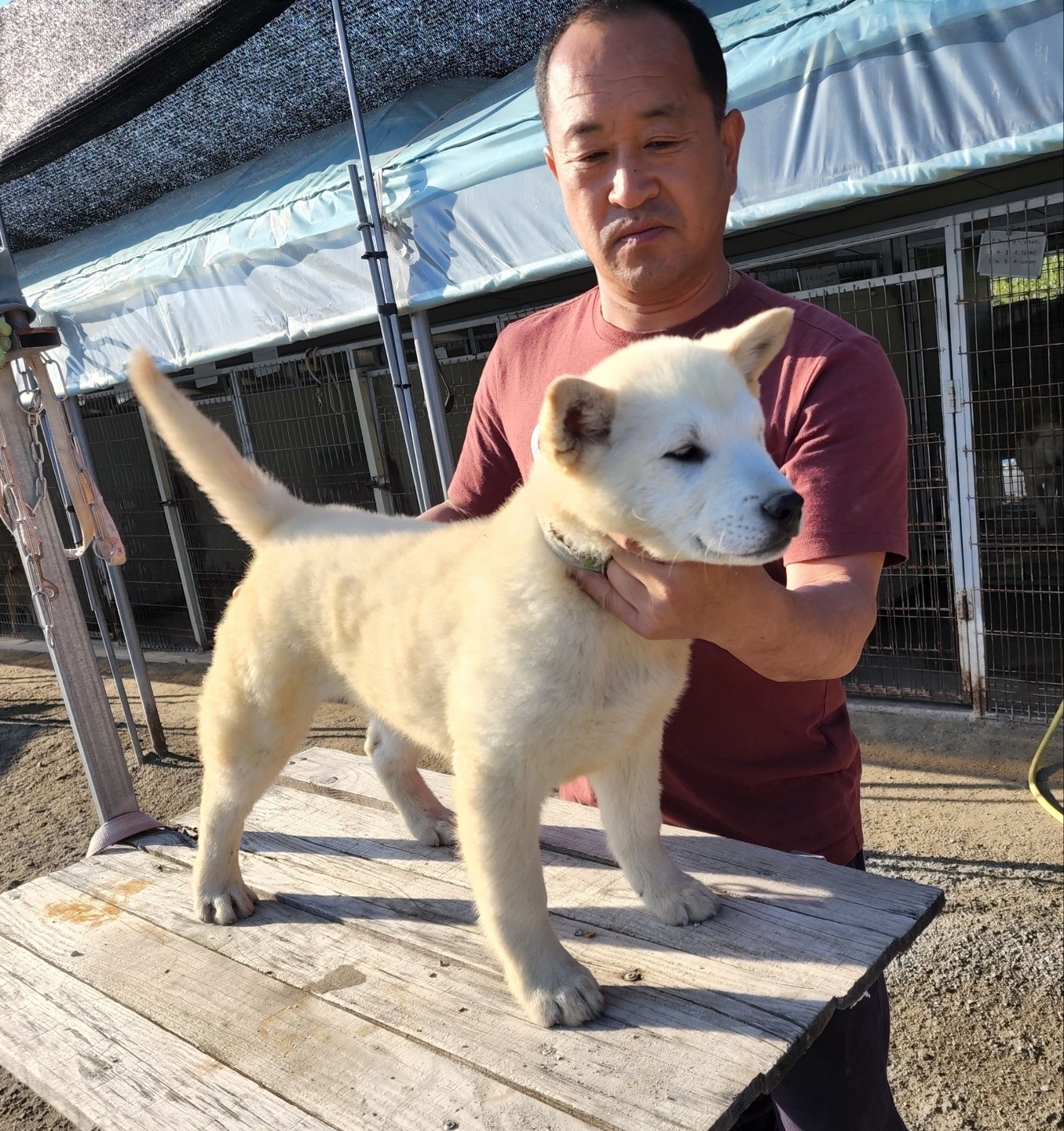 Thanks to:
​⁃​Seong-Hyun Kim, Yong's breeder and amazing mentor, who took a chance on a kid with a dream.
​⁃​Julia Yu and Mike Yi, my supportive parents who helped me fulfill my goals…and drove me to dog shows and puppy/conformation classes
​⁃​Karen Min-Jee Park, who is an older sister to me, her knowledge and experience in Jindos, and eternal kindness means more to me than anyone will ever realize.
​⁃​Lynn Tyler (and Jimi!), who mentored me in Dachshunds, and showed me what a mentor truly is.
​⁃​Ann Kim, Nichole Royer, and the Jindo community for their knowledge, inclusion, and support of a rookie.
​⁃​My friends Jo, Bebe, Dottie, Andrew, Hillary, Macy, Annie, Jessie, Autumn, McKenzi, Kam, and Sophie, for being the best support system.
I would also like to thank those in the show community who recognize, understand, help,
and treat juniors with kindness and hope. We do not forget it.
Photo Credits (in order):
Natasha S.
Julia Yu
Seong-Hyun Kim
The last two photos are puppy pictures of Yong and his mother. His mother, the adult fawn Jindo, is named Sori of Noryeong Sanmaek. Out of the two puppies, he is the one on the right.