A Westminster History Lesson
By: Elliott Wentzel
Photos by Mary Bloom
As many of you know, Westminster happens to be my biggest interest in my life! It truly is the Super Bowl for everyone in dogs! Westminster is surrounded by an aura that is unmatched by any other event! It offers something that is just unlike anything else…it's indescribable! I truly believe that heir of world class comes from the deep history that surrounds the club!
The Westminster Kennel Club yields only to the Kentucky Derby, by one year at that, for the longest continuously held sporting event in history. An annual tradition since 1877, the Westminster Kennel Club has become not only the crown jewel of dogs, but a well known event around the world. The club has survived two World Wars, The Great Depression, The Cold War, 9/11, and now even a pandemic just to name a few. The club's devoted members and leaders have worked tirelessly for 147 years keep this premiere and world class event alive and open to the public to get a glimpse of this great world of dogs. From Civil War generals to successful businessmen to devoted dog people, this club has been under the leadership of this country's finest. Welcoming dogs from every state and numerous foreign countries, this show has become the "crown jewel of dogdom" in the words of my late friend and Westminster devotee, Mary Bloom. Originating in the Hippodrome at Gilmore's Garden, to the several renditions of Madison Square Garden, to the Piers, to Lyndhurst Estate, and now the Billie Jean King Tennis Complex, the club may have moved locations, but the aura that is Westminster is still ever present. Nothing will ever compare. It truly is a class of its own.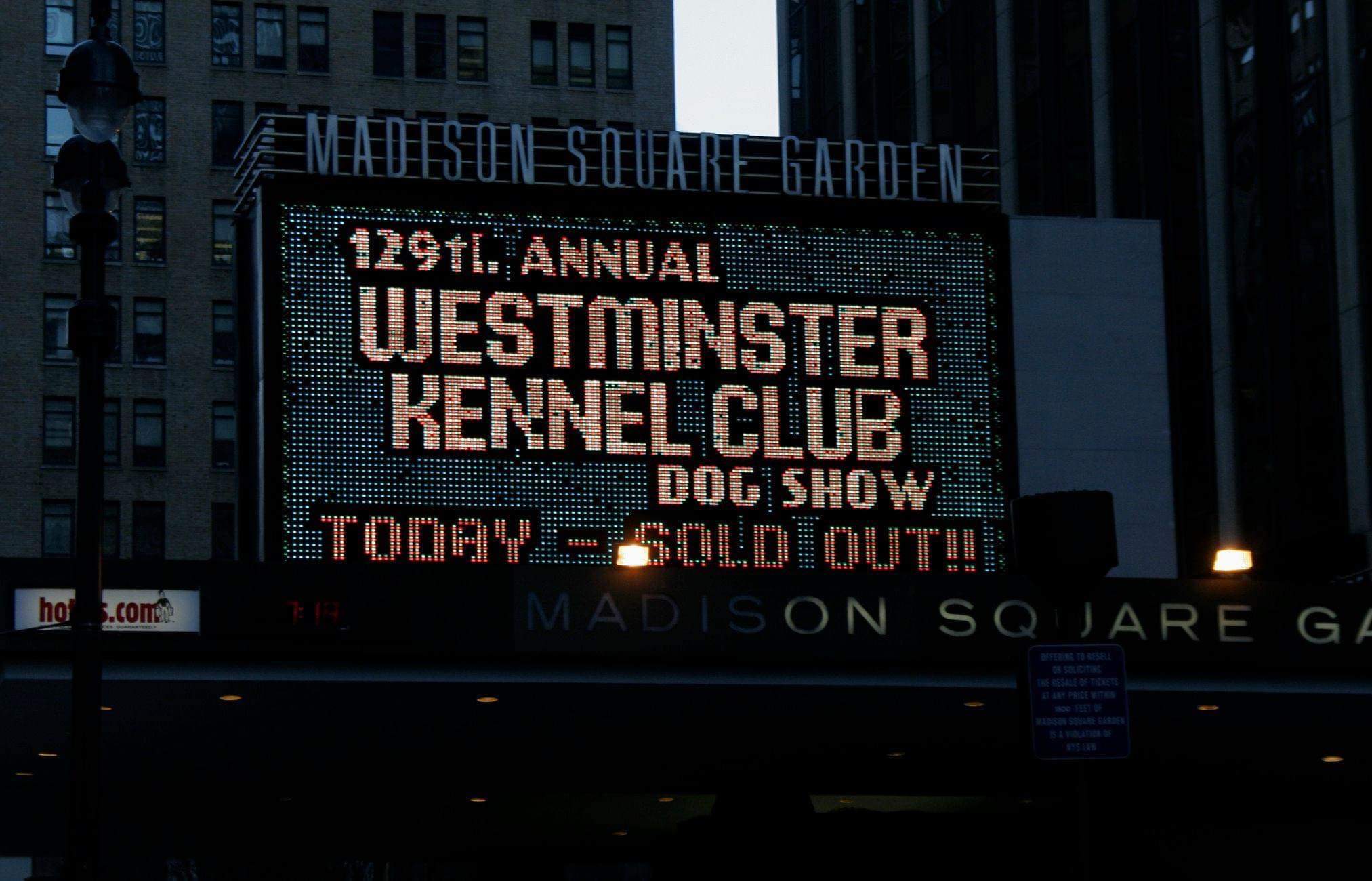 Westminster offers moments that become engrained in our memories that will live forever. As the wonderful Voice of Westminster for many years, David Frei, always said, "The only surprise at Westminster is if there are no surprises!" Did anyone ever go to Westminster thinking they would win? You may think you will win the group, but then lose the breed…that's just Westminster! Westminster is the show where if you get a ribbon at all you're happy! Personally, I love the intricacy of moments of Westminster history when the upsets happened. I'll name a few of my favorites. I always loved the story of this Herding group revenge I call it. 1991, Corky Vroom brings the Bouvier "Iron Eyes" probably the most well known dog in America at the time coming into Westminster as the Top Dog All-Breeds in 1990. Everyone thought he had it. Well, here comes the one and only Jere Marder with the Old English Sheepdog "Lambluv Moptop Show Stopper" born in the drive-through line and upsets Corky and "Iron Eyes" in the group under Lynette Saltzman. As if this isn't already a great story on its own, one of my favorite parts is what I always coined "Corky's revenge" lol.
1995 rolls around and Jimmy Moses is going for his 3rd group win at Westminster in a row with the top show dog in history, the German Shepherd "Altana's Mystique," but here comes Corky Vroom with a different Bouvier "Dragon" seeking that huge upset he pulled off winning that group in 1995. That has always and will always be one of my favorite dynamics…I just love the story. Another of my favorites, when Mr. Donald Booxbaum had the Boxer "High Tech's Arbitrage" up front in his 1995 Working Group the entire time, then he took them around for the last time and pointed behind the Boxer to the veteran Akita "Ben" to win the group. Other wins, from legends like Pat Trotter winning the Hound group 11 times at Westminster, a record in itself for the most group wins at Westminster. Records held by people like Mrs. Clark for being the only person to ever judge all 7 groups and Best in Show at Westminster. Records like that of Percy Roberts and Peter Green being the only two handlers to ever win Best in Show at Westminster four times a piece. Records like that held by Mr. and Mrs. Forsyth being the only husband and wife handlers to each win a Best in Show at Westminster. This is just naming a few, and there are SO MANY more!
Anyway, I could go on my Westminster memories, history, and records soapbox all day long, but it just goes to show the deep history and what makes The Westminster Kennel Club the WESTMINSTER KENEL CLUB. Westminster has always and will always truly remain the crown jewel of dogdom.