DAVIS (CBS13) — UC Davis veterinarians have issued a warning for pet owners after a local dog had a brush with a dangerous plant.
His name is Moose.
No, he doesn't have antlers, but this nearly 2-year-old chocolate lab does have only one lung.
"Life seemed really full with him, and this coming out of nowhere, this serious diagnosis, it was tough," said Garrett Bevin who says Moose is like a brother to him.
You see, Moose likes to get into a lot of things, after all, he's a puppy—but it's a tiny barbed bristle that nearly took his life.
"Foxtail infections are extremely prevalent," said Dr. Ingrid Balsa of UC Davis.
Balsa is a soft tissue surgeon at The University. She said showed on an X-ray how the foxtail worked its way into the pup's lung.
"Moose had a particularly challenging case," she said.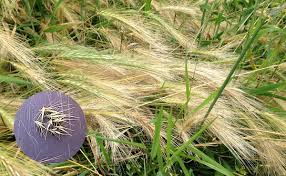 Faced with a pricey surgery, the Bevin's family had a tough decision.
"It was kind of like remove the tissue with the big surgery or he would just decline," she said.
So they opted for the surgery.
After removing one of his lungs, a five-day stay at the hospital, and plenty of bed rest, Moose is back at it.
"To see him up and about as recovered as he is absolutely amazing," Balsa said.
Dr. Balsa says prevention is key to keeping pets safe, after all, UC Davis sees at least a case a week during the summer.
"Foxtails in their ears, foxtails in their nose, foxtails in their eyes, she said.
You've probably walked by them a million times and never noticed, but the foxtails are especially dangerous during the summer months when they dry out.
Garrett said they learned the hard way to keep Moose on the leash and out of the brush.
"Drop! Good," he said while playing fetch across the lawn, of course with no foxtails in sight.
The Bevin's are just glad to have their four-legged family member back home.
"It's the best. Dogs are man's best friend. He's my best bud," Garrett said.
It's safe to say, Moose will not be let loose anytime soon.
Also, it turns out, doctors never found the foxtail that infected Moose's lung.
As a result, he was on antibiotics for weeks, but feel it's worked its way out.
Now, even with only one long, doctors feel loose will have a successful life.
If your pet becomes lethargic or stops eating, those could be telltale signs something is seriously wrong and you should seek medical attention.