Getting on board with Getting Online
Part 1
By: Jessica Freni
Stock Photos
Get on board with getting online. People are using the internet and social media at rapidly increasing rates to make major life decisions- home, car, job and even finding love. So, it is reasonable to think it is the primary source of information when looking to add a new dog to the family. It is way past time to abandon the mentality that "good breeders don't have to advertise", "if they're worthy they will find us" or even in the current climate expect pet people or those interested in joining the fancy will have limited access to attending shows to meet and greet breeders/exhibitors. EVERY KENNEL/BREEDER MUST HAVE A SOCIAL MEDIA PRESENCE, and the more the better. These avenues are not necessarily an avenue to puppy homes, though they might be, but they are more importantly, a great, usually free, marketing tool for marketing the well-bred, purposeful purebred to the pet public! While dogs are major content draws across social media platforms, the majority are mixed breed, colors out of breed standard and or rescues with well-bred dogs and reputable breeders woefully underrepresented.
Instagram has roughly one billion active monthly users. According to digitalmarketing.org ,
 "Social media users spend almost as much time on Instagram as they do on Facebook. In 2019, users were spending an average of 27 minutes per day on the platform. Like other popular social media giants, Instagram is also an attractive platform for the young generation. 64% of Instagram users are aged between 18-29."
This is a key demographic missing from interest in purebred dogs, a generation having grown up with "doodle" as a part of their vernacular. Dogs are a huge content draw on Instagram, the top dog accounts have amassed a huge audience with millions of devoted followers @jiffpom (10.3m), @loki (2m), @manny_the_frenchie (1.1m). Create an IG (Instagram) account highlighting an individual dog, your kennel or focused on the breed and use silly, informal, pet pictures with a mix of fun and informational captions. Accounts to follow for purebred enthusiasts: @americankennelclub, @westminsterkennelclub, @american_dog_fancier.
HINT: On IG (Instagram) hashtag is king, ex #frenchbulldog has 30.7M posts, #doodlesofinstagram has 8.1M and #dogsofinstagram 229M post. Use about a dozen hashtags per post to increase visibility and audience use both your specific breed as well as more general audience ones like #dogsofinstagram, #puppy, #puppylove, #doglife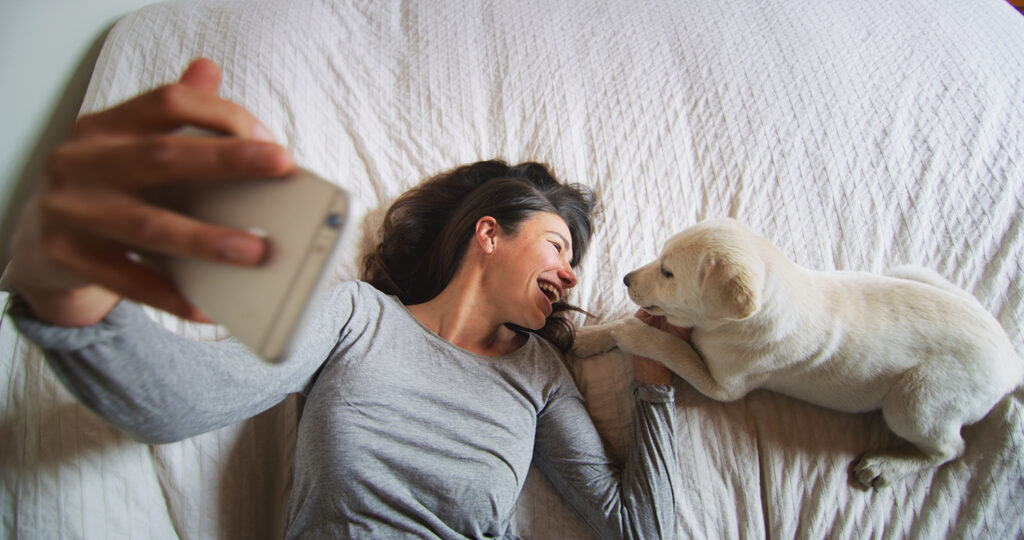 Every kennel should have a Facebook page, even if you do not have a traditional website or have a personal account, you should have a Facebook page too with ability to connect with those looking to make inquiries or learn more about your breed via instant/direct message. Facebook is the "oldest and widest-reaching social network around, Facebook boasts a staggering number nearly of 2.8 billion monthly users," according to Sprout Social. The majority demographic is 25-34 years old with nearly 73% comprised of those ages 18-44 who spend on average nearly 40 minutes a day scrolling the platform. Pages built around specific individual dogs are also popular and create large, loyal followings that can be a great opportunity to mix in education or foster interest in a breed, for example Lenny the Boston has 27K followers on Facebook and uses the platform both for pet-friendly content AND increasing purebred/show dog visibility to an audience that often misunderstands show dogs and what their lives are like on the normal day-to-day.
HINT: Facebook groups are a great tool for breed enthusiasts, breeders to share knowledge and for individual kennels/Breeders to keep in contact with puppy families. If your breed does not have a Facebook group, make one, if it does have one then join it and be a knowledgeable, accessible resource. Facebook groups are also a great tool for kennel clubs, breed clubs, etc to update show statuses or results.
TikTok is a rapidly growing social media network with over 1 billion users since it launched in late 2016, by 2020 it was the most downloaded non-gaming app (over 200 million times in the US alone). TikTok is a simple concept, 15 second videos with music. The percentage of US TikTok users by age are as follows: 32.5% 10-19, 29.5% are 20-29, and 16.4% 30-39 (wallaroomedia.com). The average user spends almost an hour per day on TikTok with it being upward of 80 minutes per day for younger users. Engagement is very high on TikTok according to Wallaroo Media,
"Engagement – it's hard to quantify this. But the engagement on TikTok is incredible. Case in point: Jennifer Lopez recently posted the same video on Twitter and TikTok. She has 45 million followers on Twitter and 5 million followers on TikTok. The video on Twitter got 2 million views (off 45 million followers). The video on TikTok got 71 million views (off 5 million followers). So start using TikTok now! They recently started nightly programming which is undoubtedly training Gen Z to tune in at certain times a la appointment TV viewing of days past. Engagement has increased dramatically over the past few months. The New York Times reports that TikTok usage has been skyrocketing since Coronavirus began."
Like Instagram, hashtags matter on TikTok so start creating content and use popular tags like #dogsoftiktok (55.7B views), #dogoftiktok (641.8M views), #funnydogsoftiktok (181.4M views) and breed tags #frenchbulldog (2.5B views), #goldenretriever (8.4B views),  #bulldog (2B views)
Hint: Try to catch on to TikTok trends popular songs, dances and "challenges" and do them with your dog these go viral and generate views and followers quickly, ex #meme (34.4B views).