Gerry Chen of Perfect Fotos – geraldo.smugmug.com
Can you introduce yourself?
My name is Rebecca Strieby (39, she/they). I'm originally from Aiken, SC but currently live in Tifton, GA with my husband (39, he/him), our child (11, they/them), two Borzoi, and a Silken Windhound. I've been involved in Borzoi since 2017, and Silken Windhounds since 2021.
How did you get into showing?
I originally got my start showing horses through the local 4-H club as a kid, and then eventually worked my way into the Western Pleasure, showmanship, and halter rings. I was more into performance events as a teen, but always went back to my showmanship roots because it was just so much fun. As for dogs, I brought home my first Borzoi puppy in 2017, and my very first experience showing him was at the 2019 Borzoi National Speciality in Gettysburg. I've been hooked ever since!
Who are your dogs and what do you do with them?
Sonic (6 yrs), my first and eldest Borzoi, is retired from field events and is my kid's Juniors dog. I also let people that are new to showing, or want to try showing a Borzoi, show him because he's so easy and honest in the ring.
Zeal (3 yrs), my youngest Borzoi, is my shiny happy sunshine boy that absolutely lives to be in the show ring. He's a big silly boy that believes with all his heart that everyone is his best friend, they just don't know it yet.
Digit (3 yrs), my Silken Windhound, is my do-it-all dog that is quickly on his way towards being a dual champion. He's such a cool and calm dog, and loves nothing more than to watch TV from my lap every chance he gets.
I show in both AKC and UKC, as well as running my hounds in AKC and ASFA lure coursing, LGRA (straight racing), and NOTRA (oval racing).
Outside of dogs, who are you as a person?
I am an artist! I work in all sorts of mediums from digital art, pencil, ink, acrylic, watercolor, gouache, clay, cross-stitch, and embroidery. Funny enough, I fund all of my dog hobbies by painting dogs.
How has being a parent impacted your hobby in the dog fancy?
It's a balancing act! My child was 6 years old when I got involved in Borzoi, so old enough to somewhat understand what I was doing, but young enough that it was a big ask to expect a young kid to not get bored and do kid things while I was in the ring or on the field. When they would come with me to events, my husband was happy to tag along to parent ringside so they could be my little cheerleading section. Or, if they stayed home, they would go on their own adventures while I was working with the dogs.
I made it a point to never miss out on weekend school events for a show or field event, as well. As much as I love the hobby, I want to make sure that I am there for my child first and foremost.
Now that my child is just about to turn 12, I am very selective about the people I allow to interact with them. For the most part, people have been very kind, welcoming, and encouraging. Especially within my two breed communities, where Juniors are not in the greatest of numbers.
What surprised you about the dog fancy when it came to parenthood?
In my personal experience, how easy it was to balance both! Having a partner that's supportive of my hobbies, as well as the community of friends that I've built for myself over the years, takes away a lot of the strain of balancing raising a child while allowing myself to have something separate from just being a mom. It truly takes a village!
I also kept the door open for my child to be involved IF that was something that they wanted. When they asked to get their Junior number as a 9th birthday present, I gladly obliged. And the Borzoi community welcomed them with open arms by sending all sorts of gifts to help get them started! It was truly a heartwarming experience that still makes me choke up a bit every time I think about it.
Where do you see yourself in the future with dogs?
I'm in this for the long haul, that's for sure! My ultimate goal is to begin breeding my own Borzoi (and possibly Silken Windhounds) with a heavy focus on healthy and sound dogs that you can hose off from running and/or hunting in the fields and throw them into the show ring. Breeding ethically is a big responsibility that I take extremely seriously, so I still have a lot more that I need to learn, do, and experience first!
Do you plan on having your kids involved in dogs?
As I said before, I left the door open for my child to be involved as much or as little as they wished to be. Thankfully they have about as much fun as I do with these silly hounds, so you'll usually find them tagging along with me whenever we travel for events.
I'm a firm believer that kids benefit greatly from growing up around animals. Teaching them how to manage the responsibility of caring for an animal is such a big confidence booster because the proof of all their hard work and dedication is right there in front of them. There's the added benefit of it teaching them good sportsmanship, time management, communication skills, and work ethic that will follow them into whatever they choose to do as they grow up.
What is your dream accomplishment with dogs?
A legacy of hounds that are a boon to their breed, and new generations of owners and enthusiasts that I helped uplift and inspire along the way long after I'm gone. I can't think of a better accomplishment than that!
Best advice you've ever been given?
This is a tough one because I've been given all sorts of amazing advice throughout the years! But if I have to pick one, it would be the first lesson my riding instructor gave me many years ago: "Good sportsmanship does not end once you are out of the ring. There is always someone on the sidelines watching you, being inspired by you, and wanting to be you. Are you going to be the reason they try, or the reason they quit?"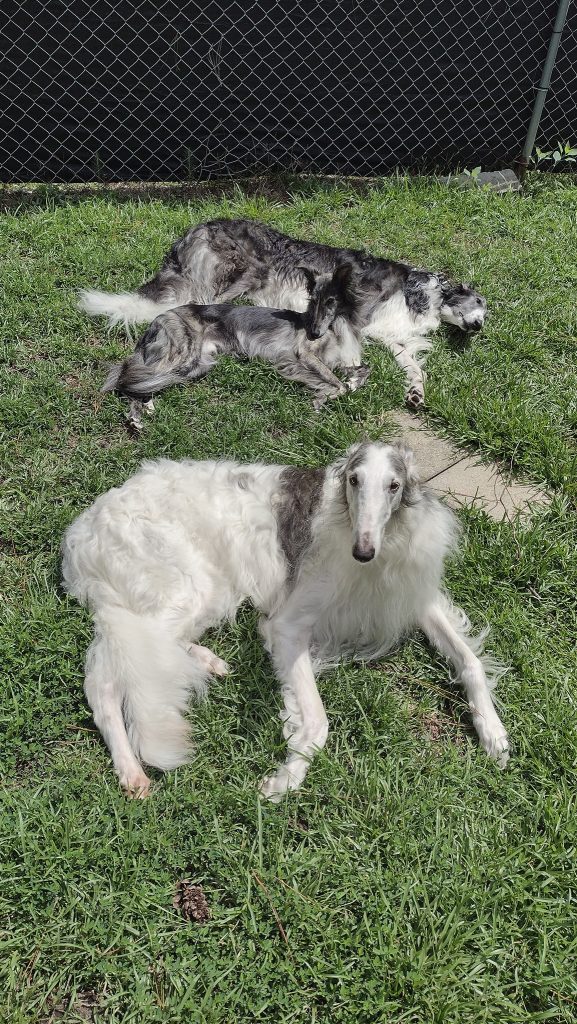 My socials: https://linktr.ee/grimoireborzoi