MEET THE OWNER HANDLERS
ROAD TO ORLANDO, SERIES 1
By Jessica Freni
Thank you to the show community for the overwhelming response to this section! We will be running this series for the next few weeks. Get to know these dedicated Owner Handlers/NOHS competitors and be sure to say "hello" to them and wish them luck in Orlando at the NOHS Finals!
(Submissions may have been edited for space and or clarity)
Name: Tracy Kaecker and Franklin Williams with Diva and Ollie
Home State: Illinois
Breed: American English Coonhounds
Year end ranking: Diva – #1 Breed, #1 All-breed, #1 Owner- Handled;
Ollie – #3 Breed, #3 All Breed, #5 Owner-Handled
Greatest Accomplishment: Winning an AKC All Breed Best in Show with my bred by, owner handled dog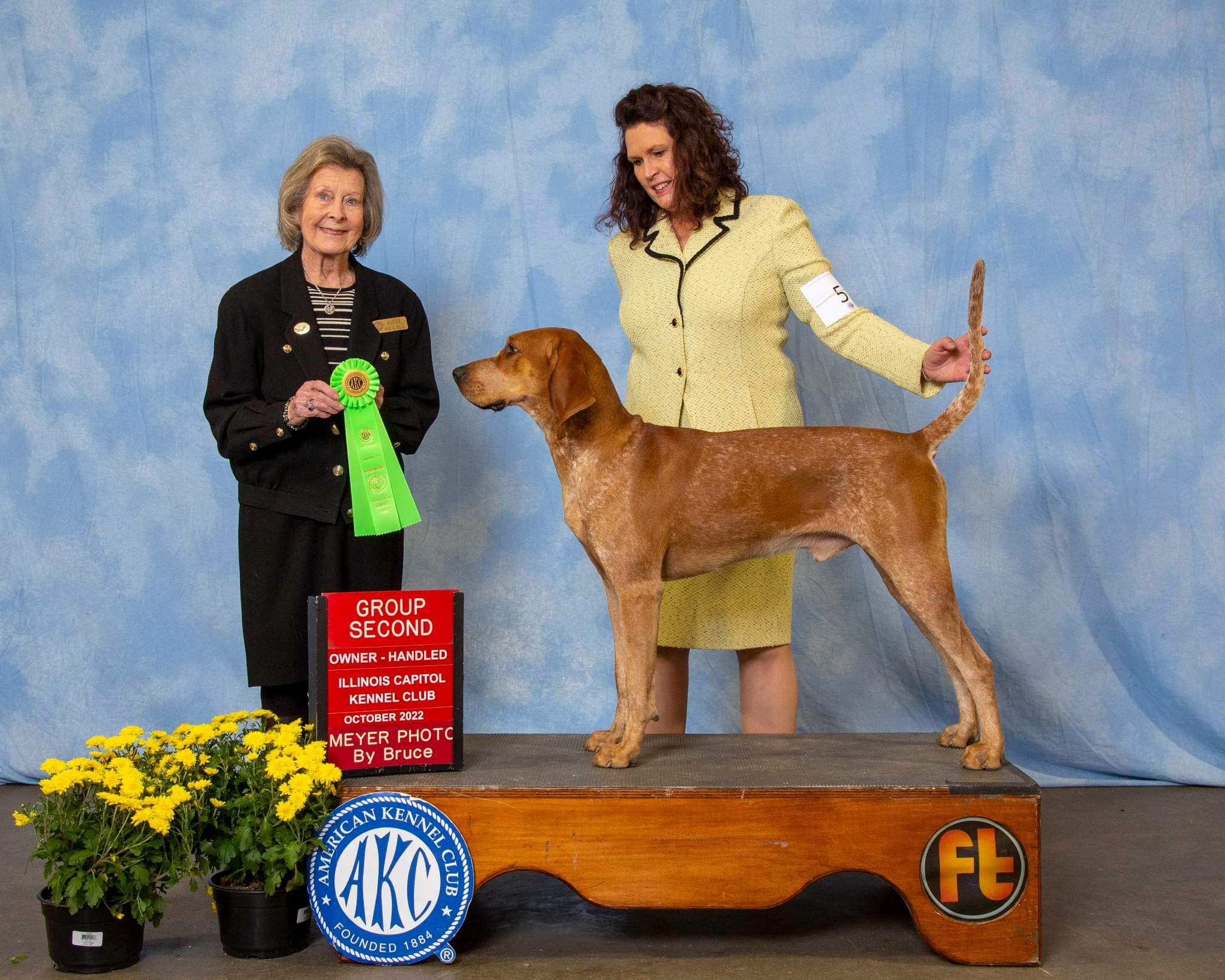 How many times attended: This is our 7th year attending, the last 6 years we've had a dog qualified for NOHS finals.
What is something interesting about you and your dog: Both Diva and Ollie are K9 Search and Rescue dogs in training.
Diva is the top winning American English Coonhound in AKC history and all the most titled.
---
Name: Alessandra Wagner and KC (GCHS TNT'S Mind Your Own Biscuits RATI CGC TKN )
Home Stare: Nebraska
Breed: Toy Fox Terrier
Year End NOHS Ranking: #9 Toy Fox Terrier
Greatest Accomplishment: Starting the new year off as the #1 NOHS TFT or Select Dog at the 2022 TFT national
How many times attended NOHS: This is my 3rd year with my dog!
What is something interesting about you and your dog? I am the only junior handler that competes year round with a toy fox terrier in Owner Handled!
---
Name: Stephanie Unger and Groot (Osiris Starts Align at Eretz)
Home State/Location: Costa Rica. But my dog was born in Canada, with his co owners & co breeder (Osiris Pharaoh Hounds)

Breed: Pharaoh Hound
Year End NOHS Ranking: 2022, 5th in the breed with just a few shows
How many times attended NOHS Finals: This is my first show attending to the NOHS finals.
What is something interesting about you and your dog? I have been involved in dog shows since little, my dad was the President of the kennel club in Costa Rica when I was a kid.
---
Name: Samantha Ionata and Zoomi (GCHS Klassic's Who's Zoomin Who)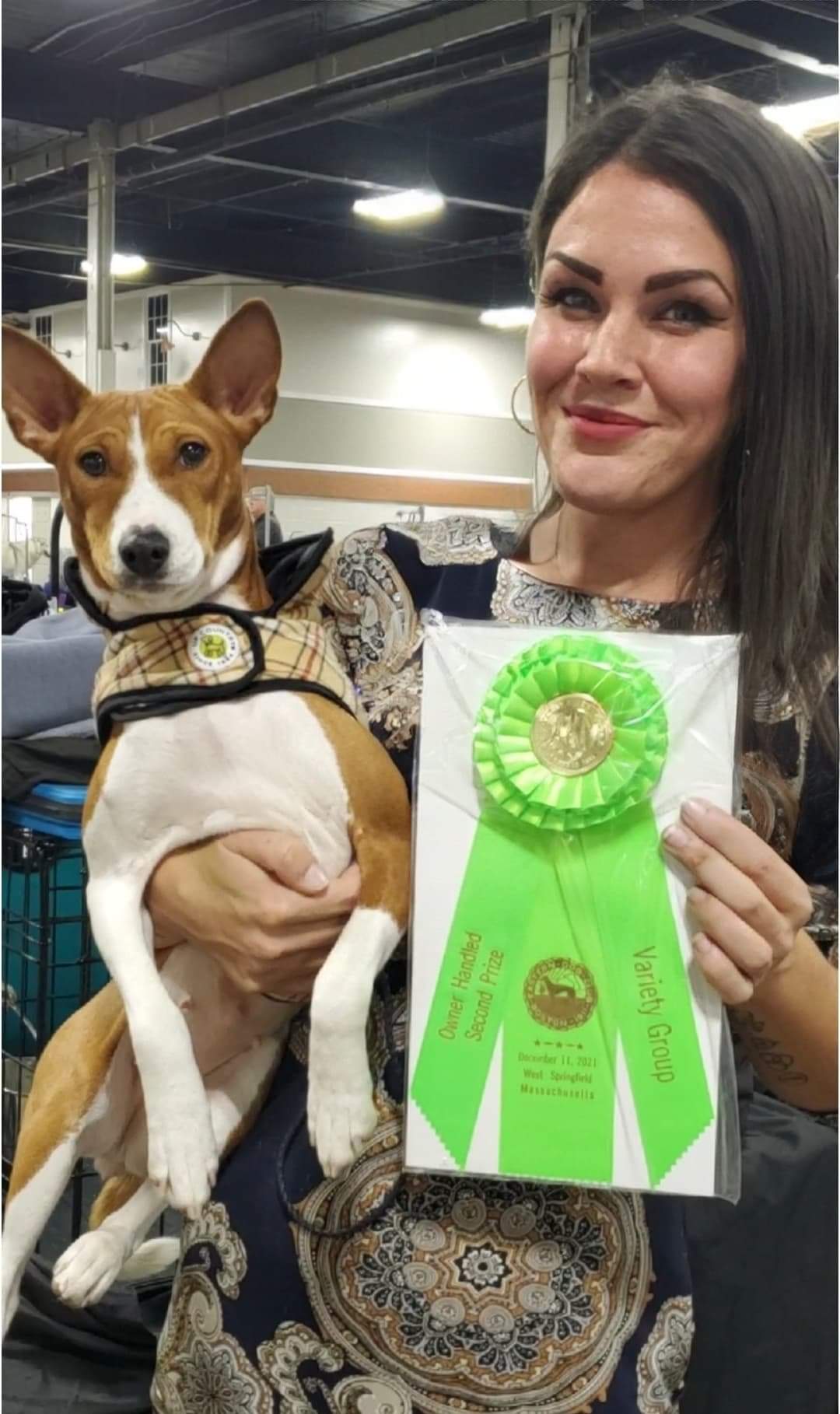 Home State/ Location: Coventry, RI
Breed: Basenji
Year End NOHS Ranking: #8 OH
How many times attended NOHS Finals: We attended AKC National Championship last year and we received an Award of Excellence.
What is something interesting about you and your dog? This was a tough year for us as Samantha (my daughter) is an Epileptic and had several setbacks this year, suffering significant memory loss which brought showing to a halt. Zoomi is also Sam's service dog, and never left her side. Despite the setbacks, they finished the year in the #8 OH spot.
---
Name: Alexis Chism and Lucas (MRBIS MBISS GCHP Neudorf's Cool Hand Luke Afterhours TKN VHMA)
Home State/ Location: Florida
Breed: German Wirehaired Pointer
Year End NOHS Ranking: We only showed in OH two months out of the year and ranked No. 7
Greatest Accomplishment: Lucas is the first and only GWP to achieve a GCHP at 9 years old. He only has one eye due to an injury in the field when he was younger. He was ranked #1 GWP All Systems in 2016. He is a Multiple Reserve Best in Show winner, Westminster BOB, Multiple BISS.. Once he finished his Platinum he went into retirement and we did not show anymore during the year.
How many times attended NOHS Finals: This is not my first year attending. I was nine when I first attended Royal Canin back when it was Eukanuba. I am now twenty and have attended every year since.
What is something interesting about you and your dog? I did face many battles while showing him with only one eye. If you ever watch Lucas in the ring or meet him you can tell he absolutely loves to show. Even at 10 years old he is so excited to step foot in the veterans ring. However, many of the judges were very rude and disrespectful over his injury. He is a sporting dog and there are numerous ways to injure yourself while out in the field. It was very discouraging at times. I was able to have the honor to put the remaining 50 GCH points on him in just two months. He finished his Platinum at the Newberry, FL shows and that same day he won an OH Group 3. We decided to continue to show him for fun since he was entered in Royal Canin. He went Best Veteran and Select Dog in a huge entry at 9 years old. Then in June I decided to enter him in the Veteran show in Tampa, FL where he won a Veteran Sporting Group 1st. We are very excited to show again at Royal Canin, which I assume will be his last time in the ring since he is now 10 1/2 and it's time to rest on the couch and enjoy his remaining years with us.
---
Name: Jamie Hadley and Biscuit (GCHB CH Hiredhand Biscuit Lady RI BCAT RATO CZ8S CGC TKI)
Home State/Location: Chehalis, WA
Breed: Australian Cattle Dog
Year End NOHS Ranking: NOHS #6 & Currently Top 10 in Australian Cattle Dogs
How many times attended NOHS Finals: This will be my 1st time attending.
Biscuit is my 1st show dog & we just started showing
Greatest Accomplishment: "Team Biscuit" has had numerous accomplishments, wins, & titles in the past year. We have done all our own training (with classes at times) & competing together…completely amateur accomplished as a team.
I am a single Mom of a Teenage Daughter (my daughter will be performing on pointe in her local SWDC Nutcracker Ballet while Biscuit & I compete in the dog show ring. We are going home early Sunday morning to catch Dhredyn's last performance for the Nutcracker season….wish we could compete Sunday, but I can't miss my daughter dancing). I am a Cardiac RN at Providence St Peter Hospital in Olympia.
I started showing dogs at the age of 50.
---
Name: Kat Patrick and KT (GCHB Texangals Killing Time)
Home state: Texas
Breed: Toy Manchester Terrier
NOHS Year-end ranking: #3
Greatest accomplishment: Winning best in specialty show bred by exhibitor
How many times attended NOHS Finals: This is my 1st time to qualify for NOHS finals
Something interesting: We had a specialty once where Manchester people stayed behind to support us in OH group, and the very moment that the judge pointed to us for OH Group 1, my so-called supporters were all looking at their phones and missed it! I threw chicken at them til a piece hit one of them and got their attention.
---
Name: Shawny Cirincione and Betty (GCHB Hobarra's Bugatti Atlantic at Brodny)