Special Extended Edition -Breeder Spotlight
An Interview with Jessica Freni
NAME: Pamela Deleppo
KENNEL NAME: Charming Toys
BREED(S):
Original Breeds: Shih Tzu & Japanese Chin;
Current Breed: Brussels Griffon
CURRENT ROLES: I am an Owner Handler Exhibitor, Fancier, Breeder, Judge, President and 2021 Show Chair of Providence County Kennel Club
What is your happiest/ proudest moment in dogs?
One of my proudest moment in my dog show career was receiving permanent status in judging for my foundation breeds and Jr. Show at 38 years old.
For my happiest moments there are so many to choose from. Since this is my passion and addiction, I would say it's my happy place. No matter how tired I am from driving or grooming as I walk onto the show site I am doing the thing I love. I get an instant energy rush with all of the possibilities for a new show day.
What breed did you start with?
Our first Shih Tzu was purchased from a local breeder in 1975. To say we were hooked, would be an understatement. My Dad loved the idea of a new family hobby. I was the youngest of 3 girls. We all had roles in this new found hobby.  The breed was in it's infancy and at the same time I was a young child. As the breed grew in popularity, my knowledge also grew. I loved researching dogs and pedigrees and to this day, I still do. I was also the puppy trainer of the family and then eventually I did everything. Planning litters, delivering and rearing puppies, training them, grooming and of course my true love of showing them.
In 1985, at 15 years old, my Dad bought me my first Japanese Chin. He wanted me to have my own breed and line. I fell in love instantly with this very special breed. They were a great fit with the Shih Tzu that I was showing because of less grooming. With very limited breeding, I finished Champions and had group placements from the classes. Also three years in a row very nice wins at the Garden.
At different times in my life I had to  take a step back from this all consuming hobby of mine. The great thing about this hobby is that you can return at any point with any breed. I  currently own and show a Brussels Griffon and just bred my first litter. They are quite the characters and keep me entertained.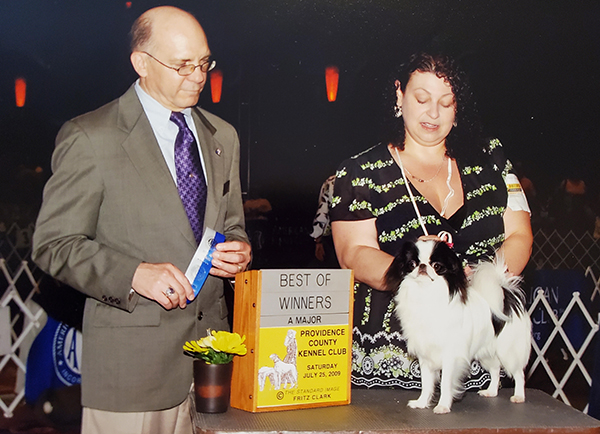 Favorite show/ circuit or judge to show to?
My favorite judging assignment was Memphis Toy Dog Club. I was able to see dogs from a different part of the country. I also had some down time and visited Elvis' Graceland. Both were equally exciting because I love to travel.
Of course going to any National is also fun and rewarding. Since you are seeing dogs from all over. I have attended Nationals for many different breeds because I love to learn and study all breeds.
I always enjoyed going to the Northern New Jersey Shih Tzu Club show on the Sunday before Westminster. It's been many years since I have owned a Shih Tzu but I continue to follow the breed, since they were my first love. Also attending Westminster and Morris & Essex are great but it really comes down to attending any dog show. I think with the shutdown of Covid, we feel a new appreciation for any dog show we get to attend.
One thing you can't show without? 
Bait! At a very young age with puppies, I train with bait. I also feel it's a sign to my dogs it's time to pay attention. I want their focus on me and ignore the scents, sights and sounds of the dog show around them. If they work for that time in the ring, they know they will get rewarded. I switch up bait to anything from chicken to meatballs to cheese. I find the key is for them to want whatever I have.
Best advice you would give a new exhibitor?
Take the time to watch at ringside. Watch all different breeds, watch the group judging and Best in Show judging.This is the part that a lot of new people don't understand. You will absorb from watching any and all breeds.
Best advice you've gotten regarding showing/ breeding?
Mirror how to show your dog by watching successful people in your breed or similar breeds. As you build confidence, then you can tweak your showing style to your own.
What is your favorite thing about your breed and one common mistake/pet peeve you wish people wouldn't make?
My first Brussels Griffon is a Smooth which is not as common as the Roughs. It always surprises me when other Toy exhibitors don't think I have a purebred dog. Normally, the general public think I have cute Puggle or mix breed. I try to always take the time to educate them and explain politely so they learn about the breed. I do feel as a dog show enthusiast, we must be willing to educate and be more approachable by the general public.
If you could have any other breed which would you chose?
There are many many breeds I would love to own from every group. Here is my short list of breeds… Whippets, Salukis, Scottish Deerhound, Welsh Springer Spaniel, English Setter, German Short-haired Pointer, Norfolk Terrier, Border Terrier, Mini Bull Terrier, Doberman, Rottweiler, Bullmastiff, Boston Terrier, Standard or Mini Poodle, Tibetan Terrier, Pembroke Corgi, Berger Picard, Cavalier King Charles Spaniel and English Toy Spaniel. With that being said I do love to watch every breed being shown in Conformation or working in any Companion or Performance part of the dog sports. I may not participate in all the dog sports but I am a definite fan!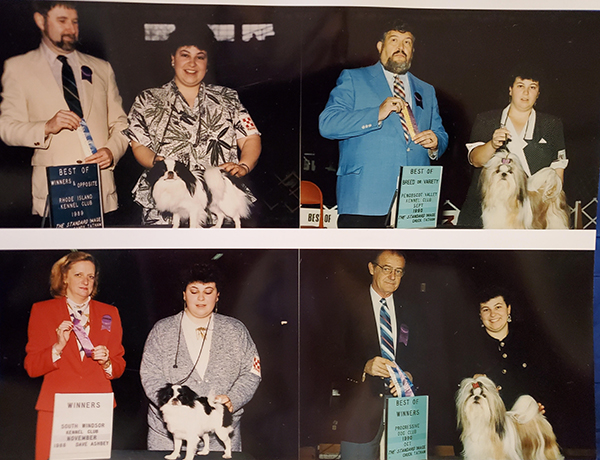 Show suit- Slacks or Skirt?
Either one, I think is great.
One thing you would like to see more of in 2021?
Whatever aspect of the dog sports you compete in if it is Conformation, Companion or Performance would be to set an example with the general public. We all started somewhere in this dog ownership journey. Sometime the person who is struggling in simple dog ownership may be your future competitor.
It's not where you start but where you land.