Thoughts on NOHS
by Jessica Freni
Fall is here- bring on the pumpkin everything and sweater weather! 2021 is winding down and with it the show season; an unusual summer with Westminster and year delayed Morris and Essex are both in the books. Last week the 2021 National Owner Handler Series (NOHS) wrapped up its year which ran from the Qualifying Period – October 08, 2020 thru October 13, 2021.
NOHS remains a well performing aspect and attraction at shows. Availability of NOHS is often cited, alongside judging panel, as deciding factors of where entries are made. Campaigning dogs for NOHS rankings is as, or nearly as, competitive as breed and all breed standings.
NOHS offers many beneficial contributions to the show community. Probably the chief among these is bolstering visibility of a wider range of quality dogs, i.e., not just the same pro-handler dogs routinely recognized at the Group level. Depth and quality in the NOHS Group is overall very good and well represented. It also offers group level experience to dogs and handlers, many of whom overlap with "regular" Group. It has become increasingly frequent to see dogs achieve in both Owner Handler group and "regular" group, even on the same day, again a testimony to the quality found there. From these, NOHS show offerings has further occasionally included NOHS Best in Cluster, another offering with wide appeal. AKC has further incentivized participation in the NOHS with levels of achievement, similar to Breeder of Merit levels of recognition- bronze, silver, gold, platinum. All culminating with the AKC National Owner Handler Series Finals 2021 in conjunction with the AKC National Championship presented by Royal Canin in Orlando, FL on December 17th and 18th.
In the big picture,  NOHS is still a comparatively young offering in conformation. There are still some that persist in looking down on the program as "not real group" or somehow less than, including judges who have been reluctant to take on these NOHS judging assignments. It can be discouraging to award big flashy rosettes for Group placements when the NOHS counterparts get flats or modest awards (trophies, rosettes) in comparison and sometimes fosters the feeling that the NOHS is an after thought or not as important. Another persisting problem is lack of understanding about how NOHS is awarded and eligibility at the breed level, this is too often an area of misunderstanding and confusion.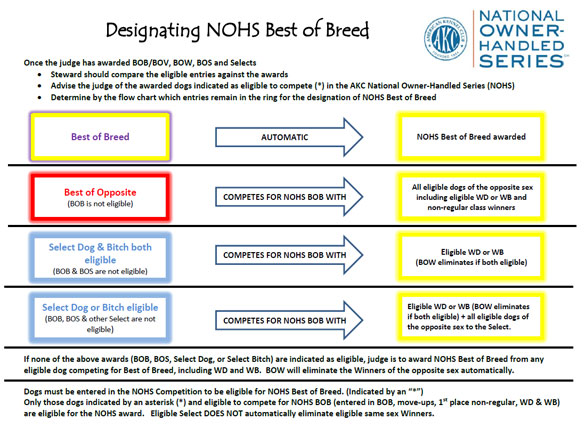 A possible potentially unintended factor of the NOHS seems to be the decline in offering of other groups, like the Bred By Exhibitor group (there also seem to be fewer veterans group offerings although whether this is linked to NOHS or lack of entries or of other offerings like Beginner Puppy 4-6 is hard to determine). While increasing visibility and recognition of Owner Handled dogs is a net positive impact, it in my opinion, should not wholly replace the Bred by Exhibitor group. Bred by Group is a great offering, which would be even more participated in and a draw if more shows were allowed to include in eligibility Bred by Exhibitor Champions, as some shows have done. With Beginner Puppy, Puppy Groups, NOHS Groups as special offerings it has seemed that both veterans groups and bred by groups have declined in availability in recent years- both of which hold value in decisions like evaluating potential studs for example.
Overall, NOHS is a fantastic series that hopefully more shows will continue to offer or expand to include going forward. Check your eligibility and don't forget to check the owner handler doggone box on your entries, support this program (according to AKC 80% of dogs are Owner Handled)! Thank you to the Clubs who not only offer NOHS, but put effort into nice awards in this area. Congratulations to the owner handler teams who found success this year and dogs that rank in the top ten for their breed during the qualifying period will soon be notified of eligibility for the NOHS finals!