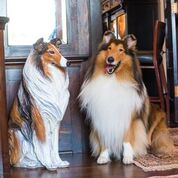 A certain magic pervades the lure and lore of California that often makes the impossible possible. Just think of last year's Oscar-winning film La-La Land and its opening scene creating the confluence of open roads (the freeway system) and Hollywood (the dream-maker industry): is it fantasy blurring into reality or reality blurring into fantasy? Somehow, Southern California is where both come together. Where else can you drive from surf-perfect beaches to snow-capped mountains in the literal space of a couple hours? Where else is the thrill of a dozen local amusement theme parks matched by the discovery of where your favorite stars live or once lived? Where else does it become possible for one of those stars to come home again and relive his childhood? Only in Southern California… and that's just what recently happened to Jon Provost, best known for his portrayal of "Timmy," best friend of the television Collie "Lassie."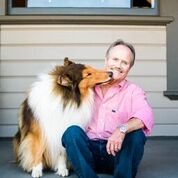 When just a little boy beginning his film and TV career, Jon, his parents, brother, and sister lived in Pomona, a small community still very rural, about an hour's drive away from Los Angeles and Hollywood sound stages. Jon remembers both the town and his family home as being different from any other place where he lived. He reminisced, "We had a horse, a pony, a goat, and pigeons. Across the street from our house were acres and acres of orange groves." The Provosts lived in this house from 1954 to 1959; it was during the latter part of those years that Jon became known as Timmy to millions of television fans. At some point after the family moved to Beverly Hills so that Jon had easier access to his acting jobs, the house in Pomona was dubbed "The Lassie House." Jon says it's really a misnomer because the collies owned, bred, and trained by Rudd Weatherwax to be "Lassie" – Jon worked with three of them during his years on the show (1957-1964) – never visited or stayed at Jon's house. The only real connection was a Lassie puppy given to Jon by Rudd, whom the little boy fittingly named "Rudd." Sometimes lore wins out over truth, and so the Provost's former home was called The Lassie House by a Hollywood degree or two of separation.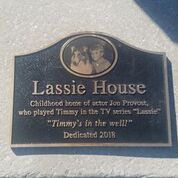 For decades, Jon didn't return to Pomona until several years ago when the Collie Club of America held its annual National Specialty at the Pomona Fairgrounds and invited Jon to participate as a special guest presenter. He and his wife, Laurie Jacobson – herself a Hollywood historian – took the opportunity to drive past the old house. Sadly, Laurie described it as "dark and unapproachable, nothing like the happy place Jon had so often talked about." But nothing stays the same for long in Southern California, whether by nature's force – earthquake, fire, flood (our real seasons) – or by human design and desire for growth and progress – in this case, restoration!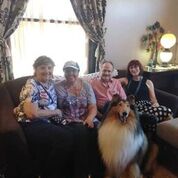 Along came Ray Adamyk, whose Spectra Company, headquartered in Pomona, renovates and preserves important historic structures throughout the western US. Ray and his wife, Michelle, envisioned finding a historic home in Pomona to revitalize, live in, and offer to the city and its children as a place for special events. In true Hollywood style, cue the former Provost home, a.k.a The Lassie House, to re-enter architectural and cultural prominence. The Adamyks learned that the house had been originally built in 1900, and they undertook to bring it back to its former glory as a "Craftorian" – a combination of Craftsman and Victorian styles, enlarging it to become a focal point for Pomona. And in true Hollywood style, the couple planned an Open House (on July 1, 2018) to show off how the house is being transformed. Inviting Jon and Laurie to attend this event also reinvigorated the lore of the Lassie connection. For Jon the trip was a nostalgic pilgrimage. Entering it for the first time in almost 60 years, Jon remarked, "The original part of the house was very much the same; the integrity was there." He reported how amazed he was by the level of detail, down to the push-button light switches and a panel of wallpaper he remembered from when he lived in the house. He flashed on memories of sliding down a banister and playing in an area near the stairway.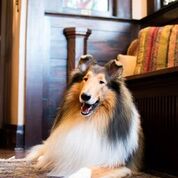 If adhering to reality, the house should have been called "The Timmy House," but the popularity of the Weatherwax Lassies and the Lassie TV show had greater cache. Therefore, the Adamyks felt they had to continue the local historic lore that went along with the house. With their goal of bringing their community together, Ray and Michelle eventually plan to host a variety of gatherings at the house, which will be available to non-profit organizations for events as well. For this first Open House – to be followed up next year with an official Grand Opening – a Collie representing the breed and Jon's long association with Collies also had to be a special guest. So, to continue the Hollywood metaphor, cue "Maxx" – specifically Multiple Group Placing, MBPIS, MBPIM, Grand CH, CH Valley Park's Serendipity At Baldwin Ridge, currently ranked #9 All-Breed Rough Collie. According to Maxx, life is all about him; hence he demands that double XX in his name – one is not enough!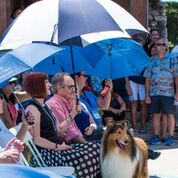 At Jon's appearances across the country, he traditionally invites a local Collie to accompany him. Sometimes it's a rescued Collie; sometimes a performance Collie; this time a champion. Jon likes his fans to see in person just what made the Lassies he knew and worked with such intelligent and sensitive creatures. While Rudd and Bob Weatherwax trained their Lassies to perfect every behavior and emotion required in a script, Collies had to have the basic stuff to begin with. Jon has found that still to be true of the Collies who participate in his Meet n' Greets. Jon says, "I love working with Collies. In Maxx's case, he is gorgeous, very well-mannered, very patient, and has a beautiful disposition." Maxx, just two years old, has a budding career in front of cameras. According to his co-owner and professional handler, Jessica Baldwin, Maxx was the first Collie to receive a Group Placement on the televised Beverly Hills Kennel Club Show (April 2018). He was also chosen by Love Pet's Photography to be featured in a photoshoot and at a gala charity event. His picture proved to be so popular that it was kept on display in Beverly Hills during this year's spring and summer months.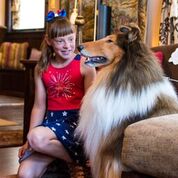 If you ask breed people what makes Collies so outstanding, they'll say temperament and personality. As a herding breed, Collies are drawn to people, especially children, and they are also drawn to other animals, especially as babies. Jessica says that Maxx sees a child or puppy and wants her to bring them home. At the Open House, he represented the breed very well, allowing the youngest guests to grab onto him, hug him, and squeeze him tight. Maxx loved every minute of the attention he got and the love he gave back. Jessica is certain that Maxx thought the Open House was all about him.
In reality, of course, the Open House took place to honor this new historic landmark. Special guests included Mayor Tim Sandoval, who unveiled a plaque, and Councilwoman Elizabeth Ontiveros-Cole, who welcomed everyone to the event. Ray and Michelle echoed Laurie's sentiments about the day in terms of the community embracing the house and what it represented in the past and in the future. For Jessica, participating in the event was an honor that interwove her past and present. As a child, she spent quality time with her grandfather, who would end their weekly outings by watching a Lassie movie or Lassie/Timmy TV episode. Having Maxx as Jon's Collie-for-a day was a dream she only imagined. For Jon, it was a homecoming he never expected to experience. Pomona locals at the event included people who knew his parents, elementary schoolmates, and even one of his former babysitters. In that respect, The Lassie House has already fulfilled its function to unify community, welcome all people with shared interests, and, as Laurie hopes, "make more wonderful memories in this grand house." As for Maxx, he'll be there next year for the Grand Opening, no doubt barking "hello" and herding guests around the property.