Westminster Memories: In their Own Words
Photos used with permission.
Everyone has their favorite memories of Westminster both inside and outside of the show ring. Several dog show exhibitors and spectators alike share their favorite Westminster memories.
Sunshine Gipson
Taking a Treeing Walker coonhound off trader row, conditioning her and building her up for 2 years, running her to the number 1 owner handled, and #3 Treeing Walker Breed spot, and taking that same Treeing Walker to Westminster our first time ever, walking in and winning the breed! It was like a fairytale come true.
Did we win in hound group? No we didn't, but we didn't expect to, just going for all the magic and star status of being the breed winner was a win all on its own. Seeing all the people wanting to come up and meet her and know all about her breed was incredible and being able to explain how amazing the breed is to folks who had never even seen one before. It was a night we will remember forever.
Mallory Cosby Driskill
As a Breeder, twice having littermates at the Garden, taking BOB and BOS
Also Ch Ambrier's Nothing Gets Past Zeke ROMX winning the very first group placement for a Tibetan Spaniel.
Kara Paul
2017 Westminster, friend and handler M'Kayla Stahr showed my Swedish Vallhund Cubby and won Best of Breed. I was at home with a broken ankle and was able to watch the breed judging on my laptop. M'Kayla made my dream come true, she showed him beautifully – they made a beautiful team!! I have been watching Westminster as long as I can remember, it was surreal. I watched that night to enjoy, smile, laugh and love as M'Kayla and Cubby strutted their stuff in the Garden. A moment in time I will never forget.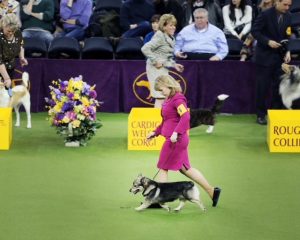 Linda Trader
My mom got the channel, I didn't. She'd tape it for me on a vcr tape so we could watch together. it's how she fell in love with Hatter.
Deborah Bean
My Nederlandse Kooikerhondje Primadonna catching a rat on the sidewalk outside the Hotel Pennsylvania the morning she was Select in 2019.
Stacy Juncker Price
The glitz and glamour when it was in NYC was always fun and exciting. Getting to meet and pet the entered dogs behind the scenes on the benches was the cherry on top since they are the real stars. The year that Uno, the beagle won, he traveled around to local shows afterwards with his handler and had meet and greets. I will never forget how soft his fur was and how sweet a dog he was.
I loved Lyndhurst too! We had so much fun last year. I felt like a celebrity while walking around with my dog and talking to the media about my special boy's talents and traits. Every corner you turned there was someone wanting to meet your dog and ask about him. Wish we were going back again this year.
Cindy Pagurski
Winning the sporting group.
Krissy O'Brien
Best Junior handler at Westminster KC in 2014 with my 19 month bullmastiff GCH. CH. Dal Primo's Oliver with a Twist "Oliver". One of the best nights!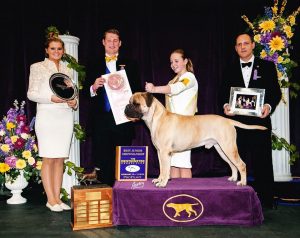 Peggy L Coffman
2002. When all ground zero search and rescue dogs entered the group ring, then Glenn Close sang God Bless America. There was not a dry eye in the house.
Michael Lynch
The year the Akita (Ch.Tobes Return of the Jedi) and Vic Capone came out of retirement to win the group at 10. Grey muzzled and all. He put on a stellar performance and really couldn't be denied!
Susan Carter
First time I went to Westminster and my saint fell asleep on the floor in front of his crate. Dead to the world. All of the photographers were laying down to take pictures of him. My soul mate dog whose grandson I am taking next week. Even the officials just shook their heads when they went by.
Debbie Rezendes
Moses being only the 2nd Black and Tan in the history of the breed to get a Group placement at Westminster in 2015. The other BT was in 1979 I believe.
Cindy Pace
First time there we got an award of merit – second year – we went w/dog and best of winners – great memory -have been going every year since 2017 my stay cay.
George Rohde
GCHS Country Cove Hay and Honey winning BOS.
Elizabeth Salewsky
Crom and I won the breed at the Garden in 2015.
Mike Beadle
How you pick just one?
The first time a dog we bred won the breed, being in the chaos of benching at the garden, then seeing her out on the green carpet.
2021 driving your girl that was #1 in 2020 from Minnesota to Lyndhurst. How excited she was to see her handler after a 6 month rest at home on the farm. Her winning the breed and the boy I won the NOHS finals in 2020 winning opposite.
Most memorable, watching her make the cut in the herding group, the first time for our breed making the cut.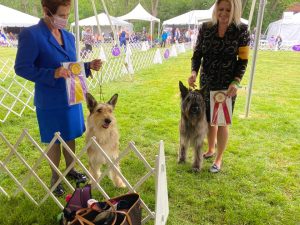 Shawne Imler
Patty Alleman
The very first year that Miniature American Shepherds were accepted fully into AKC I was on the lead of GCH Away to Me Cadillac Jack. CJ was likely the oldest dog in the ring at 7 and a long shot at making the lineup, but he showed like a million dollars and we walked away with the very first AOM ever awarded to a MAS at Westminster.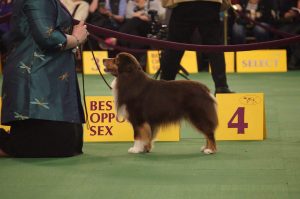 Leslie Leeb Machado
2015, first time Cotons were eligible to compete! We had a big entry, lots of excitement to be in NYC for our dogs with our dogs. My boy who fathered my first litter was invited as one of the Top Five, and got an Award of Merit, and his dam received another AOM. Everything about that first time was so much fun. My best friend from college even flew up from Florida (not someone in the fancy), just to stay with me and cheer my dog on.
Have had an invited dog (or dogs) every year since and placed with higher awards (Select Dog and Select Bitch and last year one of my home bred boys took BOS), but nothing will compare to the excitement of the very first time.
Nancy Bowen King
A handler asked me to take a very young special in for them as they had the sire- a National Specialty winner and Top Ranked, and the Son was entered for fun. It was a Malinois . This was about 1992. Never met the dog before-but he showed awesome! Mrs Edeltraud Laurin was the Judge. She pulled the sire and me out of the line up. Had us go around… then switched us and put me first and go again. I won the Breed!! Never handled a herding dog before. ( My Breed was Akitas, and I was AOM that year behind " Ben" the Akita who won 9 Breeds at Westminster and the Group. ) The malinois win was very unexpected by all involved. But so exciting!!
Yvonne van Wyk
Left my purse in a cab after Westminster. It was found by a lady who worked at the Garden and she tracked me down in my hotel. Purse and contents intact.
Tricia Stanczyk
Breeder Owner Handled Best of Breed with MBIS MRBIS MBISS GCH Posey Canyon Classic Hijinx under Mr. Alfred Ferriggario.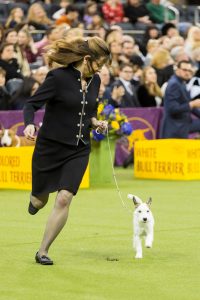 Susan Buckley Thibodeaux
Winning Best of Breed and Best of Opposite with littermates I bred, own and show. Dreams sometimes come true in a big way!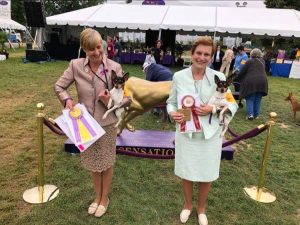 Jen Reed
Complete and utter disbelief. Going from crying happy tears to immediately having to call and rebook our flight out (we were flying out the morning of BIS) and having to scramble to extend our hotel. The absolute memory of a lifetime!
Cole Vanover
Sarah Crepeau
Nadene Wahnschaffe-Seymour
Linda Durham
Sharon K Sherwood
Taking a incredibly young dog, because he got the invitation. Knowing we were not competitive, but wanted to see how he handled everything… and he not only handled it, he showed like a dream. Won't be our last.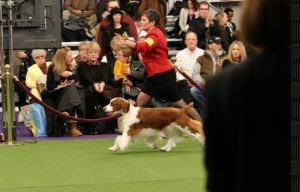 Jennie Chen
Bekki Pina
So my favorite memory to date was my junior was aging out and he had never been to Westminster, so I entered his Juniors dog in the breed ring as a surprise to him. And allowed HIM to show him, while I stayed outside the ring and watch. Yes I may have been that super proud crying woman standing next to his mother who was also crying watching
John Mark Woodworth
show Uber the Pharaoh Hound to an Award of Merit under Richard Meen..
Amy Lynne
My favorite memory is going with
Taylor Lane
12 years ago for her first time ever and received an AOM with the crested she was showing.
Kerrin Winter-Churchill
Most memorable would be more like it.. but it's hard to narrow it down. Could be the time I got into a fight with a security guard and was taken out in a stretcher. Or the time a "big lady" tripped and used me to break her fall and pushed me head first into the elevator I was waiting on – hit my head and got knocked out. When I woke up, I was staring up at a group of judges and they just looked at me, no one moved a muscle. Oh, and there was the time we got a taxi and the cabbie turned out to be a pirate and tried to steal our money but my husband was faster and took his money back plus an extra twenty. Those events are memorable but the best time I had at Westminster was probably when Val won the Garden with the GSP. I was up in the rafters with my long, lens and my heart was pounding as the spot light was on CJ and the breed was announced. For one instant, I was there on the floor with Val, heart in my throat and they just danced under that spotlight. When they won, it was as if the gates of heaven opened up and a bright light burst through to the garden floor. Pure drama and never to be forgotten.
Julie Schaeffer
Going down and back with my boy Ghost the Irish Wolfhound everyone taking video he moved so well I let the lead go loose. Too loose and the lead dropped out of my hand my dog kept on with me and gave me a side eye like "what are you doing" I scooped up the lead and just acted like nothing happened. Of course everyone saw it!! We got SELECT DOG.
Kathy Schwabe
I have attended Westminster every year for as long as I can remember, and have many memories- both good and bad! The new breed media tour for Cirnechi and then Winning the Breed 2 years in a row with our Cirneco dell'Etna; watching canine history made and being there when friends' dreams come true. By far my greatest memory is now bittersweet: the night that my dear friend Mark Gilligan and Nancy McLaren's co-bred Bedlington Terrier, Willowind Tenure, won the Terrier Group with Taffe McFadden. And the celebration that followed, of course!! It was the first time my husband had gone into Westminster with me and he was quite impressed at how seriously we took our after-show parties!! Sadly, my husband, Mark & Nancy are all gone now but the memory of that night remains bright!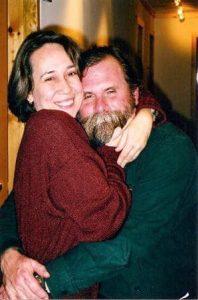 Leslie Jaseph
Winning BOB from the classes over multiple specials with our 9 month old Breeder-Owner-Handled Border Terrier, CH Seabrook Galadiel in 1983. She went in to be the 2nd BT b*tch to win a BIS (her dam Concorde was the 1st), and also G3 at the AKC Centennial show in 1984.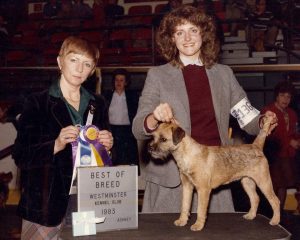 Bernee Brawn
1994- Handling my first and only time at Westminster with my homebred Dual Champion and getting AOM and having the "floating sneakers" photo to memorialize it! I was thrilled.
Rachel Jonas
I was the first to use his dad as a stud; some people saw a fault. I saw that spark a good dog carries and the legacy of the dogs he came from. My mentor's entries didn't get in, and since she's not only JJ's co-owner but a phenomenal breeder and a superb handler, I asked if she would handle him. She did, and they did this.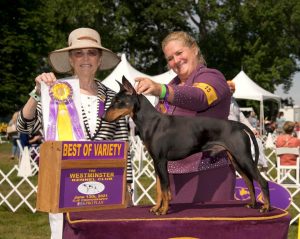 Haylee Siegrist-Gross
I attended my first Westminster in 2017 with my Smooth Collie Brighton. I had just graduated college in the Summer of 2016 and this was the first year I didn't have to worry about missing class and could go to Westminster. I just went for the fun of it but Brighton showed her heart out and earned herself an AOM!
Nicole Schmitt
Watching it on TV & laughing like a 13 year old boy every time they say 'b***h!'
Jennifer Remazki
I've yet to win the breed at the garden and appear in the groups… That is a life goal of mine! But in the past, we have had some extremely memorable occasions, for example, Shelby appearing on Good Morning New York alongside Dr. Oakley Yukon Vet… Doing a feature in Central Park with all the other northern snow breeds called Best In Snow that appeared during the Westminster broadcast with my boy Elliott. These were two of the highlights for sure!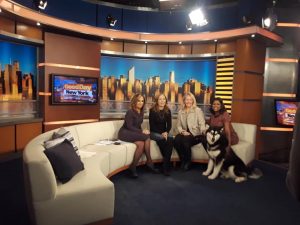 Carrie Ertle
Charlie Gerson
Karen Mammano: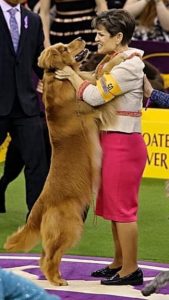 Amanda Giles: