What's Good For the Goose
By Jessica Freni
Photo Courtesy of Maggie Platt
As the old adage goes, "what's good for the goose, is good for the gander" certainly didn't turn out to be the case for a wayward Pointer name "Goose" when it came to Breeder vs humane society. Goose, born on 9/10/2019 and bred by Maggie Platt of Penzance Pointers and Sarah Terns of Racecity Pointers was sold to his owner, a breed experienced home, in early December 2019 with the understanding that if there was ever a problem that he was to be returned to his breeder. Updates showed a happy, seemingly well cared for puppy until things took a drastic turn and his Breeders were notified via AKC Reunite Goose was in the possession of the local ACO. Attempts were made to coordinate with Goose's owner his release and that's what his Breeder believed would take place. According to Maggie, "AKC ReUnite requested the document from the Humane Society where someone signed the dog over to Animal Control. Those records have never been provided although they agreed to provide that to AKC ReUnite."
By the end of the week, Maggie was horrified and shocked when she recognized Goose, suffering a skin condition, on the local Humane Society website. Maggie describes the frantic flurry of what happened immediately upon recognizing her dog, "I called the Humane Society immediately, gave them his microchip number and was told someone would call me back. I was called back relatively quickly, and his identity was confirmed. I cried! I was so upset that he was in such terrible condition and in the Humane Society. I was so overwhelmed by his condition. The animal control he was originally at never mentioned his poor health condition.
"The humane society told me they had a vet on staff and would get him back to health, neuter and place him. I offered to pay his vet costs and adoption fee in order to get him returned to me, nor did I argue about neutering him. They would not return him to me. I hung up feeling helpless to resolve this situation and resigned that I would have to allow the HS to place him without my input or any further contact. After discussing the situation with the co-breeder, I called the HS back to demand his return. The person who answered stated she could not make that decision and I would need to speak with the president Judy. I waited on hold for more than 5 minutes, and the original woman returned to the line stating Judy was busy and would call me back. The woman would give me no further info on when I could expect a call. "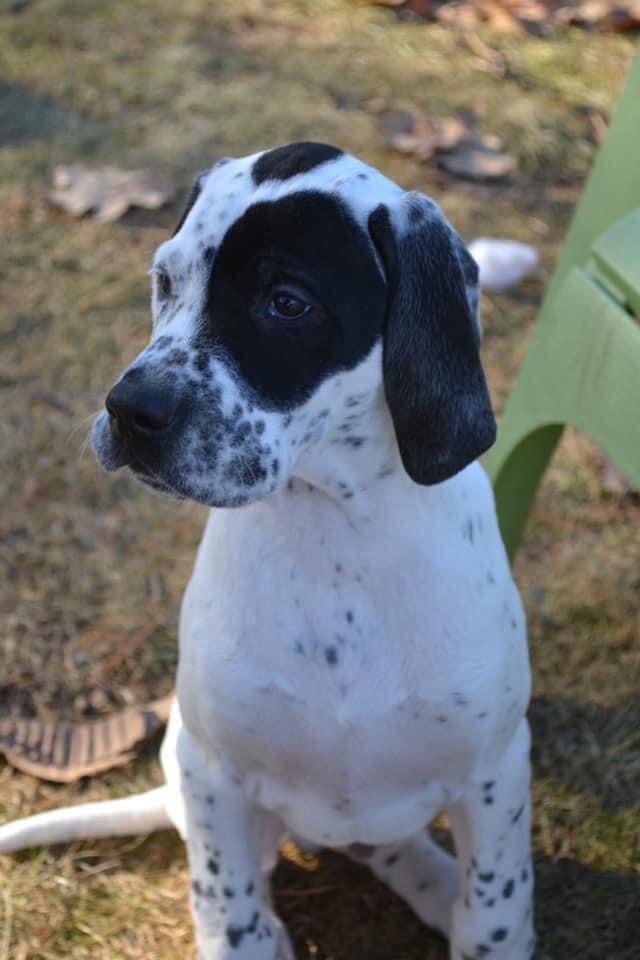 Over the next eighteen hours, Maggie and the Pointer/ gun dog community, larger network of responsible dog breeders and even respected veterinarians received a huge outpouring of support. The involved Humane Society social media pages were bombarded with requests for transparency, accountability, communication and for Goose to go home to his willing and able Breeder. Attempts were made by Erin Turner Horan, veterinarian, personal acquaintance of the Breeder and author of the viral post regarding Goose, to mediate with the H.S. director to find the best solution for Goose. Despite that Goose had an obvious skin condition and had only briefly been in the possession of the Humane Society, "Judy" claimed there was an adopter already selected who could not be disappointed (an adopter hours away who had not yet met Goose in person).
Maggie explains, " Judy was also concerned that Goose had been sold to his home (as an 8 week old puppy) unneutered. Erin (veterinarian) explained that breeders, for the good of the dog rarely do pediatric spay/neuters and many have recommendations that boys not be neutered until 18-24 months…Judy then called me, basically making my entire argument for the HS to return Goose stating they sometimes misjudge people; they sometimes make poor placements and they get their dogs back to be sure they are properly cared for and placed. When asked what she would do about the microchip that is also registered to me and why I could not be part of the adoption decision, she stated she did not want me to harass her adopters. I assured her that I offered support – information about Pointers, following Goose's health situation, and of course always taking him back if there were ever a life change. Judy would not allow that. Finally, Judy conceded she would have the adopter call and speak with me so we could discuss Goose's situation and I could offer support. Judy then went and publicly stated that I had "agreed" to allow her to place Goose. Nothing could be further from the truth, but I also recognized that there were no other options which would allow me to be in contact with the adopter."
As of Wednesday, Goose was bailed from the Humane Society by his adopter. What does his future hold? Maggie explains, "The adopter is a longtime friend, she was told by Judy several times that the HS would NEVER cooperate with the breeder. Judy did not have the adopter call me as she had promised. Goose has now had complete and appropriate veterinary care and is safe and comfortable. Goose will be returning to MA at the earliest possible time that also is appropriate with his health needs."
Read more about Goose's story on Facebook here: https://m.facebook.com/story.php?story_fbid=10224132599401387&id=1192762738