What's In Your Wardrobe?
By Jess Pearson
I recently saw a Facebook post about a kennel club on the west coast "going casual" at their show. Since the beginning of Covid we have seen more and more of these "casual attire" posts, and this post caught my attention with their "what not to wear" section which included tutus, grass skirts, and coconut bras. While the club was going for a satire post to grasp attention, other commenters asked what the definition of "going casual" meant for the club, so I decided to provide a helpful article about what to wear and what not to wear at a dog show.
Summer/Casual Attire
Summer means more shows, with the availability of outdoor venues, and also means higher temperatures in many areas across the country. Summer attire for women include dresses, sleeveless blouses, knit skirts, or dressy shorts and capris. Polo shirts and khakis are the go to for men, ditching the tie and the blazer for cooler attire. Comfort is the theme for warmer weather.
Fall & Winter
Fall is one of my favorite seasons for fashion. In addition to the long sleeves and sometimes longer skirts or even pants, we bring the riding boots out of the closet and dust off the scarfs. An infinity scarf is the best finishing touch to your fall wardrobe, and they are made to match with so many colors. Men generally wear a full suit with a tie or bow tie to match. Cooler outdoor shows may even require a heavier coat which is perfectly acceptable to wear for both men and women. Puffy vests are also appropriate over a sweater, blouse, or suit jacket.
Spring
Spring is another fun season to dress up. Shops are filled with the usual Easter outfits which also can double as the perfect dog show suit. Bright colors and pastel colors are all the rave in the spring. In addition to Easter attire hitting store racks, shops usually also have Prom attire which can also be the best spring dress or Top 20 dress.
Rain Days
I love rain days. When it rains, it means a change of wardrobe altogether, with jeans and boots as well as a rain coat. Ball caps are perfectly acceptable for rain days. When we mention jeans, keep in mind that these should be nicer jeans (no holes or cut offs), and preferably dark as the mud from the rain will not show up as much as light color jeans. Rain boots are completely acceptable as are riding boots or any waterproof boot to keep your feet dry. If you are like me, the one thing I hate most is wet socks!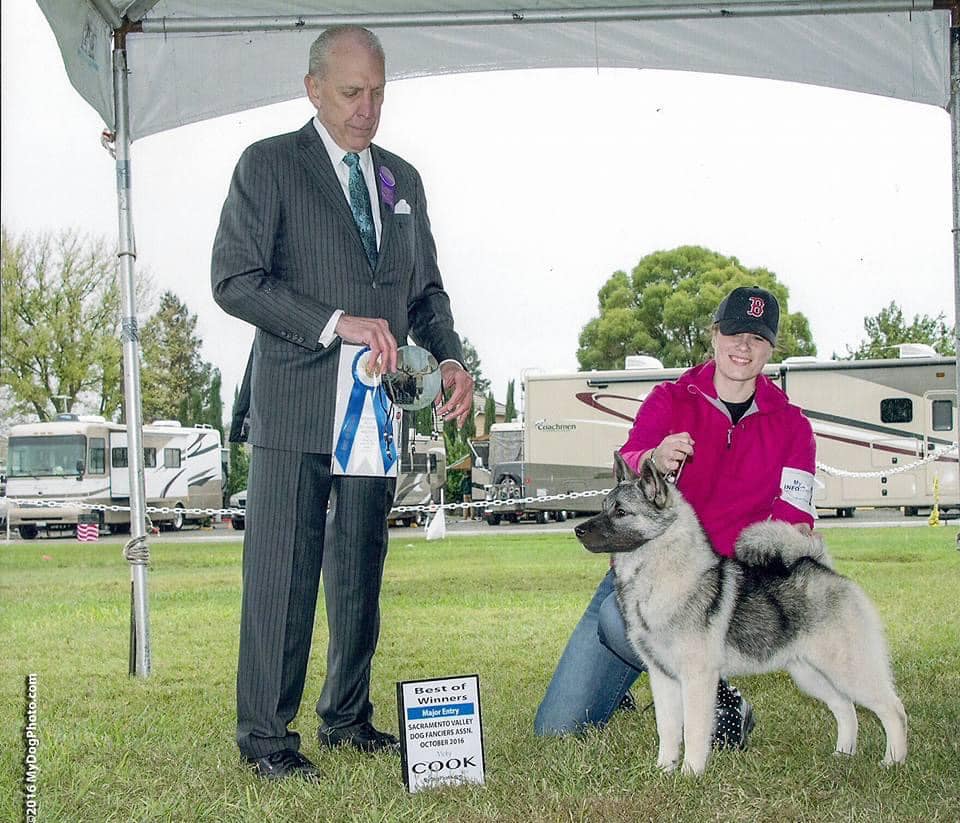 What to Wear at Specialties
Speaking of specialties and Top 20 events, make sure to wear your best at Specialties and Nationals! For the ladies, suits consist of St. John Evening Wear, shimmer suits or suits with crystals, or any attire that would be considered more dressy than a spring or casual attire. For a top 20, think more along the lines of semi formal or prom/homecoming dresses, and there are always exceptions such as themed Top 20 events. If you are specifically having an outdoor specialty or national, it is best to dress for the weather.
Determining Size & Measurements- Why do my measurements matter?
It is always best to wear what fits correctly for your size and shape as well as knowing your measurements when purchasing suits. As we all know, a size 6 in one brand can be a 10 in another. Nordstrom Trunk Club has great information about dressing to your size and shape and can be found here: How to Dress for Your Body Type | Nordstrom Trunk Club. This page will show you how to measure for your size as well as determining what looks best for your size and shape. Most resale shops will provide measurements and dress type along with the size, and the measurements will give you a more accurate size versus the printed size. For example, I can fit in various suits from size 12 to 18, and they are all around the same measurements. My average size is a 14.
Patterns
I always like to match a pattern with a solid piece, whether a hounds tooth skirt with a solid top or vice versa. Always remember lace is not a pattern and often matches with many different patterns and solids.
Color Tip
Always wear a color that compliments your dog. For example, if you always show a black dog and wear a black skirt, the dog may not be seen and might blend right into your skirt. If you run into this issue with win photos, make sure to step in front or behind your dog so he can be seen. Most photographers will let you know when they can't see your dog.
Shoes
The general thought on shoes has changed over the years. Since we are on our feet all day, it is best to wear shoes for comfort. Whether this is sneakers or sole inserts in your favorite loafer, shoes vary across the board for men and women. Your feet (and back for that matter) are so important, and it is best to dress for comfort so you can make it through the entire weekend. Whatever you decide for shoes, make sure you can walk and run in them. Test them out at the store between buying. Flats are always better than shoes with a heel. Your shoes should also not slip off while walking or running. Avoid wearing anything with heels, sandals, or crocks.
What to Always Have in Your Closet
I always make sure my closet has a few essential pieces. For example, a black skirt will match with just about everything, as will a black blazer or blouse. A summer dress is a must have in my closet. In my personal opinion, dresses are even more comfortable than wearing shorts and a t-shirt. Two pairs of shoes at least is a must. You never know when you might need an extra pair, or if you wait until show day to wear a brand new pair, your feet will thank you the next day for changing shoes. Rain boots are a must, and rather than living in my closet, they live in my dog show vehicle. Even if you do not choose to show them in the ring, you will be glad you have them.
Where to Buy
Several places are available online or at brick and morter stores that have the attire you are looking for. Cindy's Suits is a popular one amongst dog show enthusiasts. Cindy finds suits, blazers, dresses, shoes, ties, and accessories and offers them at her online store or in person at various shows. Cindy also offers alterations, add-a-pocket service, added "bling" and more. She also matches pieces to go together and makes suggestions to shoppers at her booth.
Jessica from Winning Ways Wardrobe describes her business as, "a small boutique specializing in finding perfect outfits for dog shows. From casual dress to specialty suits, our goal is to provide fashionable clothing at affordable prices. Instead of spending hours searching for your next winning outfit, shop with us and find all of your favorite brands in one place!"
Poshmark is another popular site for dog show attire offering searchable features that only show your sizes, eliminating the need to sift through clothes that may not be your size. If you love St. John, Poshmark is one place to purchase brand names at a discount. You can save $10 by using my code: allaroundqh881. You can also sell on Poshmark! Have a suit that doesn't fit? List it and sell it to the next buyer.
Other online places include Style Encor, The Winning Look, Thred-Up, Ebay, Stitch Fix, Facebook Marketplace, and various Facebook groups that allow buying and selling of dog show attire.
No matter where or what you buy, always ensure your attire is clean and modest, not detracting attention from your dog. Remember to keep your comfort in mind above all else. You would not want to overheat wearing a tweed suit in the middle of summer. Make sure your attire shows off your dog and does not hide its best traits.