You had us at "Hello"
Printed with Permission of author Elizabeth Hugo Milan,
with editing by Jessica Freni
You had us at Hello.
As we browse pedigrees, looking for those big, accomplished name sires and the occasional, flashy famous mother, very often there appears a little, seemingly inconspicuous, name on the bottom part of the pedigree. A name often without fancy title, and in the pedigree database, very often without even a picture.  She may have a prefix you recognize, though sometimes not.  Yet upon closer consideration, in many of those little mommas, you often have something quite remarkable and truly special.
As is the case with Kelloe Hello.  The pedigrees that contain her name are like big cities, with the imposing, towering skyscrapers of the famous names hovering all around.
But you can't have  a skyscraper without a foundation.
She was a daughter of a most famous father…  A handsome brindle chap called Jacob.  If you run in bulldog circles you should know him.
Her mother was by Tyegarth Lucifer out of a Stroller Boy daughter.  The breeding that produced her was a line breeding based off the half brothers Merriveen Happy Daze and Tyegarth Lucifer (Both by Merriveen Son of Satan).
As the pedigree should suggest, when Hello was bred to the Happy Daze Great-grandson, and also great-great grandson (via Amos of Ocobo) Tugga Tough Decision for Kelloe (also with two crosses to Ocobo Skipper), a dynasty was created, or you could say the continuation of a dynasty was solidified.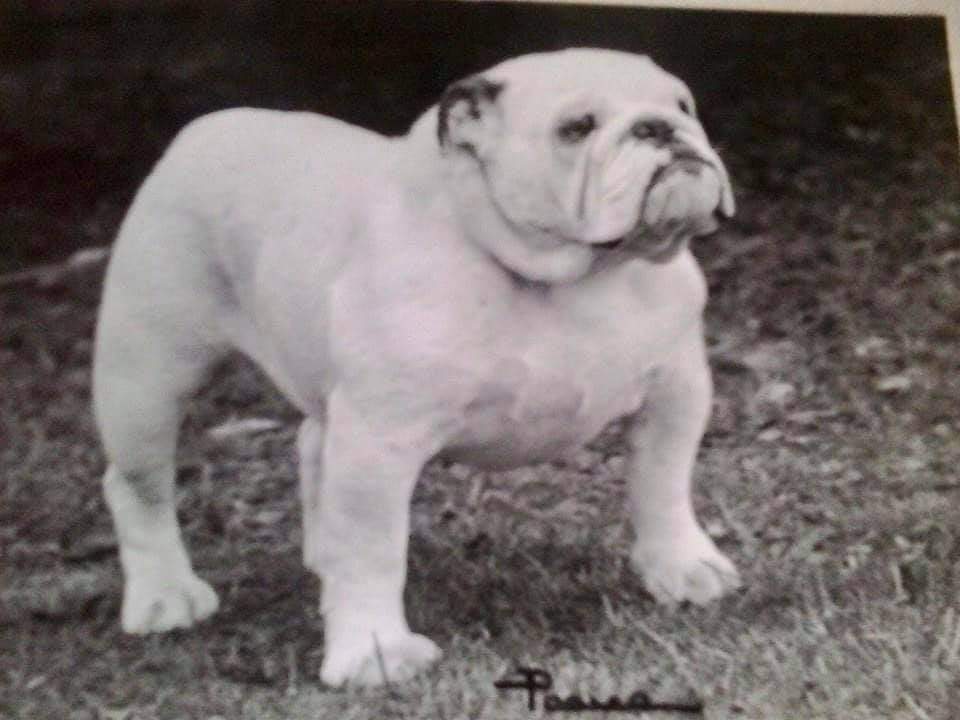 Kelloe Hello's contribution through her children?
Well…where to start?
🌟The record breaking Kelloe White Glove, with her 50 CC's under 50 different judges? (I think I have that right)
🌟The stunningly beautiful Kelloe Maid in Silver? (I could look at her picture for hours. In fact, I have!  It's her photo I included here, along with the one with her sister).
🌟The third sister, Kelloe Peroxide Bombshell, whose son, Kelloe British Emblem influenced pedigrees in Europe.
🌟Kelloe Allum Chine. Probably best known for her son Kelloe Angel Dust, who had massive influence on the breed in Spain as well as other countries. Plus her daughter Kelloe Grace Darling (by Hobtop Sentinal).
🌟There is  Kelloe British Pageant.  His two sons, Dos Aguas Dow Jones and Dos Aguas Jacob also had influence in Spain.
🌟One son went to America. Ch. Kelloe Local Hero.  While only having minor impact on American pedigrees, one of his descendants made its way back to England and shows up in pedigrees back on home turf.
🌟Kelloe Whatsitsname.  Some of the best of the Dutch dogs and others throughout Europe will find this dog in the family tree via his grandaughter Conspicuous Clever Clogs.
🌟Then there is Kelloe Kid Glove.  The list of his terrific offspring is long.  But one son in particular stands out. Does Golden Chimes strike a chord?  For fans of bulldogs bred in England, you should be quite familiar with that name.
While looking at the dogs in the database, explore the reverse pedigrees to see how these dogs and bitches drastically impacted the breed.  There are other bitches like "Kelloe Hello" (I am thinking about writing a bit about another one in particular soon); too many great pieces like these are overlooked or dismissed entirely for fancier titles and flashier packages.  Make sure you don't overlook these unknown powerhouse moms.  They are very often the reason for the greatness that caught your attention in the first place.
With thanks to her breeders, the World Famous Kelloe Kennels.
http://www.bulldogpedigree.com/pedigreeEng.jsp?id=27