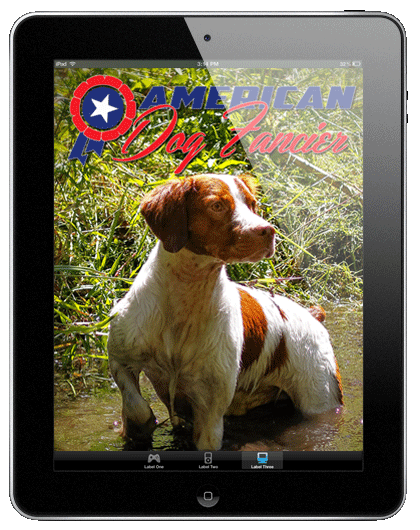 American Dog Fancier (ADF) is a bi-weekly e-letter that is sent free of charge to all AKC judges with three groups or more, all licensed CKC judges, FCI judges, and subscribers who subscribe free of charge on our website or FaceBook page – a distribution of nearly 10,000!
We feature readable content that our readership takes the time to actually read, and provide extremely affordable advertising to celebrate your wins.
At American Dog Fancier our friendly, experienced team never thinks we are entitled to your business,
we work hard to earn your business by providing our clients the best ad design in the dog fancy,
directed to a targeted and qualified audience!
 American Dog Fancier is the JUDGE'S CHOICE!
Premium Ad Positions
All of these ads are sold on a limited basis and cannot be purchased from this page. All of these prices INCLUDE our award winning ad design service!
Cover Dog – $275
Includes a candid image of the dog on our cover, with the dog's call name and registered name PLUS a 400 word bio and a full page ad (600 X 775) in our preferred pages.
Premier Dog – $200
Our "inside cover dog", includes a 100 word bio and a full page ad (600 X 775) in our campaign!
Preferred Pages – $150
Limited to ten ads per week located near the top of our campaign, includes one full page ad (600 X 775).
Regular Ad Positions
The same extensive and engaged audience, for a fraction of the cost as compared to our competition – and these rates include our award winning ad design service and our FaceBook program!
Standard Advertisement – $100.00
A full page (600 x 775) ad in our regular section located after our stats – and this price INCLUDES our award winning design!
NOHS Advertisement – $75.00
OWNER HANDLERS – stand out above the crowd in your own section! A full page (600 x 775) ad in our NOHS section located after our NOHS stats, and includes design fees!
Our Team
Our entire team is comprised of purebred dog enthusiasts, and represents CENTURIES of experience in breeding, showing, training, grooming, ad design and campaigning dogs.
To contact any of us, simply click on our name to send us an email:
Helping the Hamiltonstovare By Jessica Freni with Ashley Hammock Late this summer I read an impassioned post in the "Preservationists of Purebred and Purposefully bred Dogs" group on Facebook, it read, "Please keep the US Hamiltonstovare breed community in your...