Meet the Basset Fauve de Bretagne with 4Clovers Kennel
By Jessica Freni
Pictures provided by and belonging to article contributors
"The Basset Fauve de Bretagne, also known as the Fawn Colored Brittany Basset, is a small, stocky, rough-coated hardy dog that is energetic and fast for its size." (AKC)
Erica Beattie, 4 Clovers
With co-owners Patty Alleman & Billy Huntington
Breeding/dog experience :
I was born into the dog fancy as a 3rd generation dog-show person. My grandfather established his Airedale kennel under the prefix Country Aire, and my mother bred and exhibited Bouvier de Flandres. I started my own kennel (4 Clovers) with Miniature American Shepherds about 10 years ago when the breed was still in Miscellaneous, and have enjoyed much success in the breed over the years.
How long have you owned Fauves?
I purchased my first Fauve 3 years ago, and had my first litter 2 years ago.
What are the challenges of exhibiting a FSS breed?
The main challenge is finding shows. I am so fortunate to have dedicated co-owners who share the love of the breed and will travel to make it to clubs that host Open shows. We need so many CM earned to continue to progress towards full recognition- getting my dogs out there is crucial to that goal.
I wish more kennel clubs would add an Open Show or two to their regular clusters; it's not a huge amount of additional work and it is such a benefit to helping the breeds in FSS.
Are there particular challenges to showing Fauves? What is something you would like judges to especially consider in judging the breed?
Fauves are SUCH a happy breed, sometimes its hard to get them to stand still and present themselves, their tails are almost always wagging exuberantly.
When judging the breed form follows function, these are happy hounds, but they are first and foremost a hunting breed. They should be sound and look like they can go out in the field and do their job – which could be anything from rabbits to wild boar.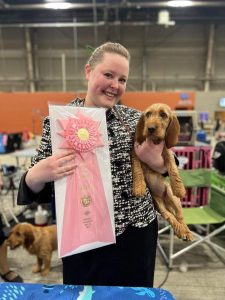 What is the ideal home for a Fauve? What homes prove a challenge for Fauve? (EX. Are they typically good with children, other dogs, small animals, ok in apartments, etc? Do they need an experienced dog home?)
They are an amazingly adaptive breed.
Happy in the country or in the city, they're an ideal size for a family pet or for someone looking to size down from a larger hound.
Fauves gravitate towards people, and especially children. They're a pack hound so while most will self entertain as an only dog pretty happily, they also cohabitate fabulously with other breeds of all sizes.
While most homes can handle a Fauve (including first time dog owners), someone looking for a dog living the majority of its life off-lead/unfenced might run into some challenges. Fauves are a scent hound and the nose often overrides their other senses, including hearing.
How is the current status of the breed in the US? Elsewhere?
We are gradually building numbers in the US, and importing when possible to build a sufficient gene pool. The breed is currently in FSS status, but may move to Miscellaneous as early as 2024.
Globally, the Fauve is still much used as a hunting dog in France and other parts of Europe. Some challenge in importing breeding stock is that not all hunting Kennels register their Fauves, so in searching for the best examples of the breed possible to import, I have experienced some dead-ends when export pedigrees aren't available.
What challenges are Fauves facing (such as health or breeding challenges)?
They are a refreshingly healthy breed to deal with, and tend to be robust whelpers with nice litter sizes.
For health testing we do CAER eye exams, a cardiologist auscultation of the heart, and vet exam for OFA patellas. The one concerning issue within the breed is an eye condition called POAG that causes progressive blindness, which can be tested for via DNA.
What can the established show community do to help the breed gain full AKC recognition (Do you feel as though the breed overall wants to be AKC recognized?)
We are eager to have the breed recognized and look forward to the day it joins the Hound Group! For the benefit of ALL the FSS breeds, please talk to your show chairs and encourage them to add Open shows to their existing and new show weekends and clusters.
For more information about Fauves:
Erica can be reached at- https://www.facebook.com/4cloversfauves/
AKC Breed page- https://www.akc.org/dog-breeds/basset-fauve-de-bretagne/
Parent Club: Basset Fauve de Bretagne Club of America – www.bassetfauve.org (Email: aahrookennel@yahoo.com)