We are proud to announce the recipients of the first 2018 AKC Paw of Courage awards to show appreciation for the working canines that put their lives on the line every day to keep our communities safe. This award specifically recognizes those who are serving or have served their departments honorably and have demonstrated heroism in the line of duty.
The award recipients are: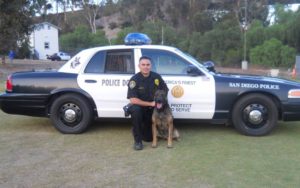 K9 Max of San Diego Police Department, CA
K9 Max, five-year-old Belgian Malinois, served with the San Diego Police Department for two years at the time of his injury. In June of 2017, police officers responded to a radio call of a man acting bizarrely. Upon arrival, the suspect threatened the officers with a knife and fled. K9 Max was deployed to apprehend the suspect, but as he approached, Max was stabbed several times. After a bit of a struggle, the man was taken into custody. Max was treated at a local veterinary hospital and has since made a full recovery. In the two short years that Max has been with the San Diego Police Department, he has proven to be an exceptional K-9 officer with several apprehensions under his belt. K9 Max is back to work full-time with his handler, Officer Luis Carbajal and has not had any medical issues since the incident. Officer Carbajal and the entire San Diego Police Department are proud to have this courageous canine helping to serve their community.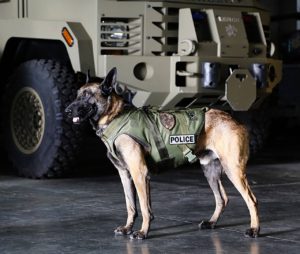 K9 Dingo of the Unified Police of Greater Salt Lake
K9 Dingo, a seven-year-old Belgian Malinois, was a dedicated member of the Unified Police Department of Greater Salt Lake. He was a multi-purpose police dog, trained and certified in narcotics detection, building and area searches, criminal apprehension, tactical deployments (SWAT) and evidence detection. Dingo had won many competitive awards during his five-year career, but his real-world deployments and successes earned him the reputation of being the first choice when a criminal needed to be located and apprehended. In July of 2017, Dingo was attempting to apprehend a violent parole fugitive wanted for theft, robbery and aggravated assault. Dingo was deployed when the suspect fled on foot and after a struggle, he was fatally injured. During his career, Dingo came to the aid of his handler, Sergeant Chad Reyes on numerous occasions. In one incident, while in pursuit of a fugitive, Dingo stepped in and apprehended the suspect just before he pulled a loaded firearm from his pocket. As an officer, Dingo held the department record for felony arrests and apprehensions, but at home he was a true member of the family and enjoyed being anywhere his human family was. According to Sergeant Reyes, Dingo will always live on as his hero and the void he left will be hard to fill
K9 Apache of the Indiana State Police, IN
K9 Apache is a two-year-old Belgian Malinois working with the Indiana State Police for a little over a year. He is certified in narcotics detection and suspect apprehension. During the past year, he has assisted in locating countless narcotics and large amounts of currency leading to multiple felony arrests. This past October, while conducting an inves
tigation, the suspect fled and Apache was released to apprehend him. During the interaction, the suspect pulled a gun and fired two shots, one of which struck K-9 Apache in the neck. The suspect then turned and fired 3 shots at Apache's handler, Officer Walter Butt. Apache quickly reengaged the suspect, allowing the officer to successfully apprehend him. After the incident, Apache fled, likely due to his injury and the stress of the incident. A full effort from multiple agencies helped to search for him and he was reunited with his handler the following morning. After being treated at a veterinary hospital, and recovering at home for three weeks, Apache was re-certified and has since returned to full duty with his handler. The sacrifice that Apache made for his handler and the community he serves was truly heroic and is appreciated by Officer Butt and the Indiana State Police Department.