The Resiliency of the Future of the Sport
By Jess Pearson
Photos Courtesy of Patty Barley Shonts & Alaina House
All eyes are on Orlando for the AKC Royal Canin National Championship, as exhibitors as far as California are preparing to travel to the last dog show of 2020. On one hand, it is refreshing to end the year on a high note; on another, this year has been a struggle with twists and turns almost daily. Perhaps one group affected most by the pandemic this year is the Junior Handlers. Not only have they had a limited competition to obtain the wins to qualify, but they also had to adapt to a new way of schooling, all while maintaining their grades. For some students, sports such as Football and Volleyball are the norm, while others compete in Junior Showmanship on the weekends.
This year, 106 Juniors are entered in Orlando, having completed the requirements to attend. This year, in order to attend, juniors must have had 3 Open Junior Showmanship class wins with competition between the qualification dates. The juniors must also have a GPA of 3.0 with transcripts being submitted prior to entering.
A few perks for entering junior showmanship this year include having their own Junior Showmanship grooming area and no entry fee to compete in juniors at the event.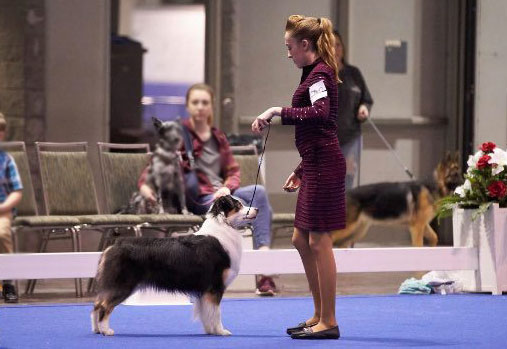 Two judges, and previous junior handlers, will be judging this year: Grace Freeman and Kellie Dahlberg. Both are not only familiar with the event itself, but well versed in many breeds and handling techniques as well. Both judges will select finalists from each of their preliminary entries, and the finals will be judged by Michael Faulkner.
On Saturday, December 12, the first Preliminary will begin at 9:30 a.m. in Ring 36, and the second Preliminary will be at 9:00 a.m. in Ring 37. Best Junior Handler will be judged at 12:30 p.m. According to the judging program, the Junior Showmanship Finals will air live and on demand on AKC.TV.
Each junior finalist will receive a rosette as well as a scholarship towards the school of their choice with the Best Junior Handler receiving a $5,000 scholarship.
No matter the results of the event, the juniors have worked hard and overcome obstacles to attend. The sport as a whole will be cheering them on both at the show and from afar and look forward to seeing who will become this year's Best Junior Handler.